Bangkok is a city built within the constantly flooding watershed of the Chao Phraya River delta. In the past it relied on a complex system of canals (usually called Khlongs in Thailand) to survive and flourish. These canals or khlongs were crucial for controlling the floodwaters. They were also used for irrigation and transportation. They once connected almost every home, market and temple in Bangkok.
While most of these canals have filled in over the years; either completely (and been turned into roads) or to a point where they can no longer provide a means of travel, Bangkok still has a fair number of khlongs left.
On the east side of the river two major canals run through central Bangkok. These two canals, though heavily polluted, still thrive as a part of daily life and both offer public transportation. The first, Khlong Saen Saep cuts across the city from east to west, the other, Khlong Phadung Krung Kasem, runs slightly perpendicular to Saen Saep and has a new electric boat service. Schedules, pier stops, and route maps for Khlong Saen Saep can be found online at transitbangkok.com
For the rest of this post I'll be talking about the khlongs weaving through the Thonburi district, on the west side of the Chao Phraya River. Where one can still traverse an entire network of operational canals and perhaps glimpse a small part of Bangkok's rich past.
There are a fair number of operators that offer such tours. I took my tour with Pandan Tour Company. I was able to arrange all the details before my arrival in Bangkok through e-mails and their website, thaicanaltours.com. In retrospect I feel they did a pretty solid job. There were maybe a few points that could have been improved on, but I don't want to be nit picky especially since I really only realized it after the fact. The khlongs themselves are such a fantastic experience! Peaceful in some places, busy and full of life in others, altogether lovely, interesting, and fun. And the breeze, oh the heavenly cool breeze that drifts over you as the boat glides through the water…. is pure rejuvenation.
Basically whatever tour outfit you go with, if there are shortcomings, the canals are so enjoyable you might not even notice. The boutique I stayed at while in Bangkok, the Loy La Long, (See my article Four nights at the Loy La Long in Bangkok) has a fitting slogan — Let it be, Let it go, Let it flow.
Pandan Co. has group tours, but I splurged and got a private tour, mostly because of my schedule. The group tour was set to depart pretty early and I was arriving in Bangkok well after midnight the night before, or to be more precise, earlier that same morning. With the private tour I was able to start the tour one or two hours after the group tour was set to depart, and for me that extra hour of sleep was worth the extra cost.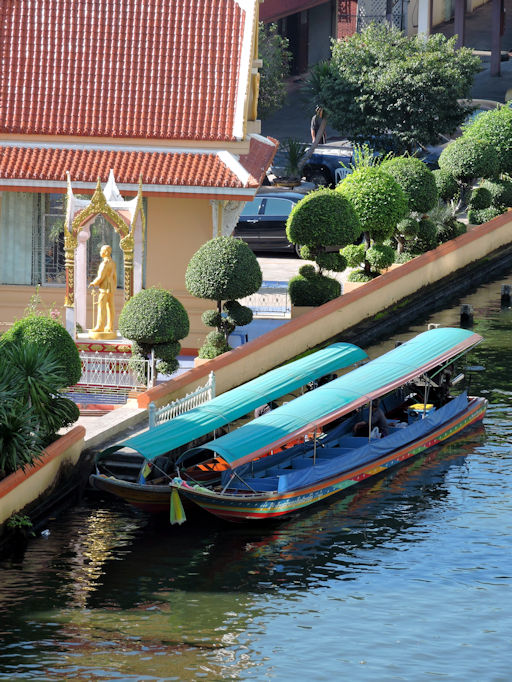 Most of the tour companies stop at many of the same places. Some of them will visit different floating markets and different temples.
---
Of course when you splurge for a private tour you have a little more say. I chose to spend a little more time just cruising and enjoying the khlongs themselves. My favorite thing about the canals was how much a part of everyday life they were and how they really seemed to be used by the people who live there.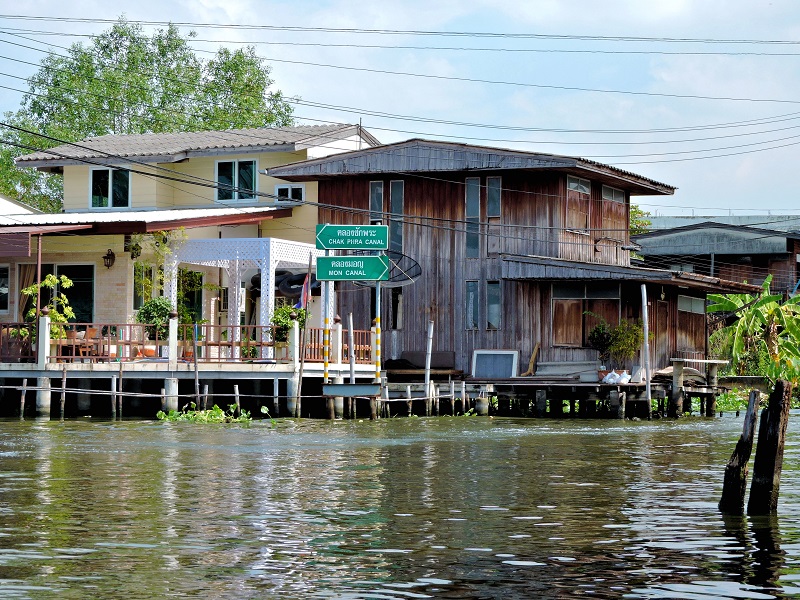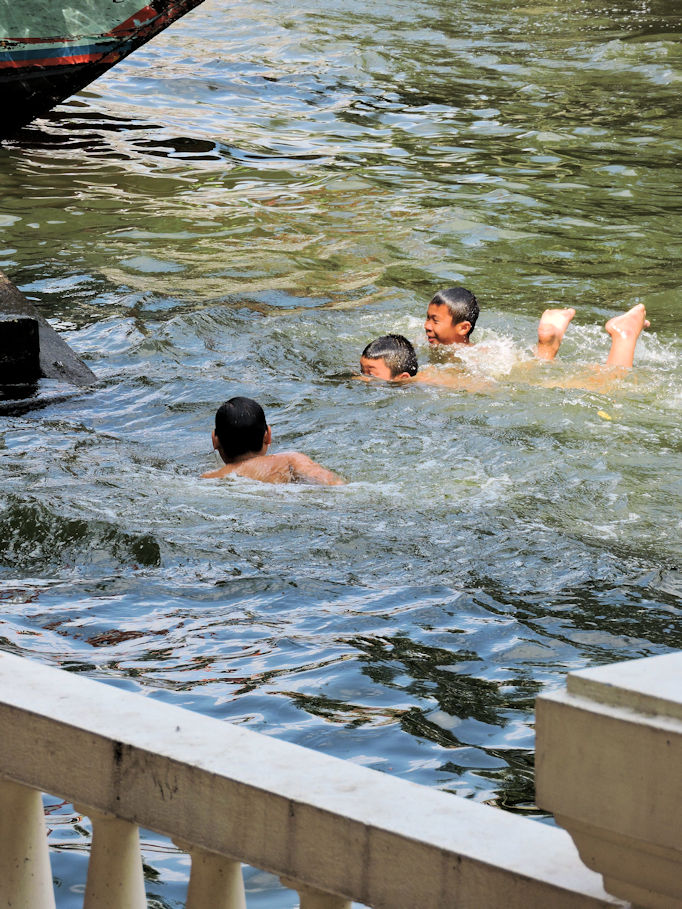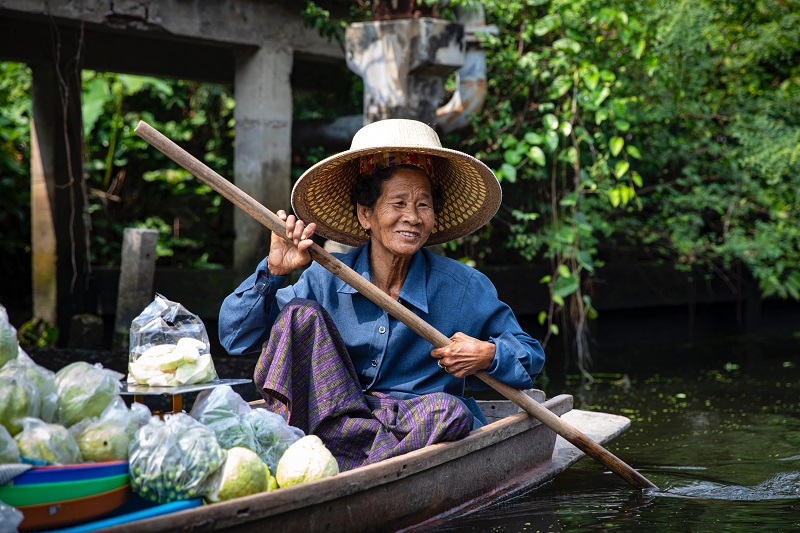 I saw a lot of mailboxes made from reused plastic containers.
Mail is delivered and Trash is picked up along the canal.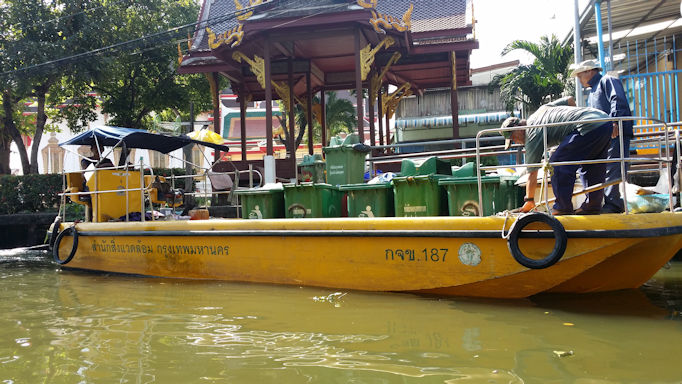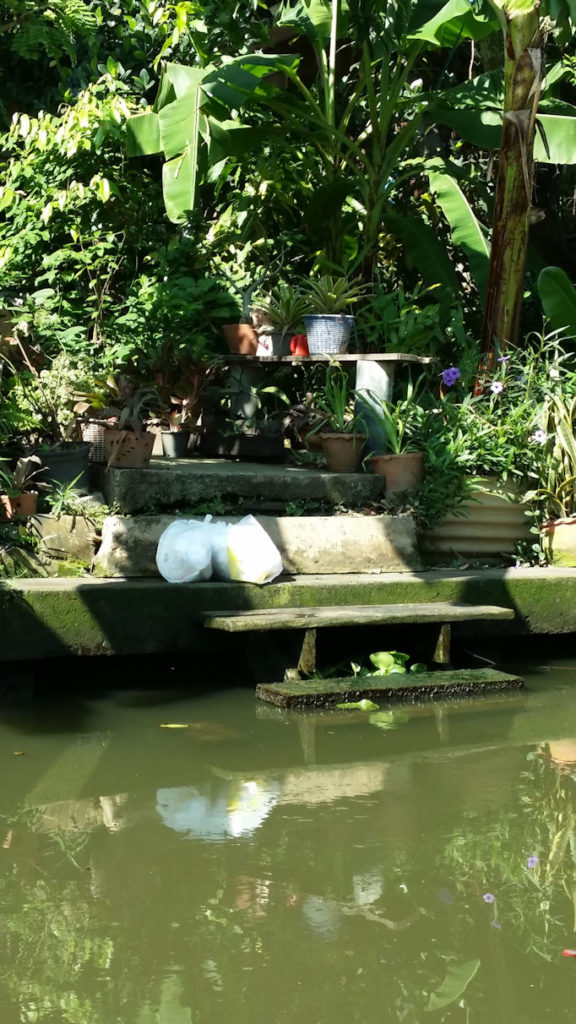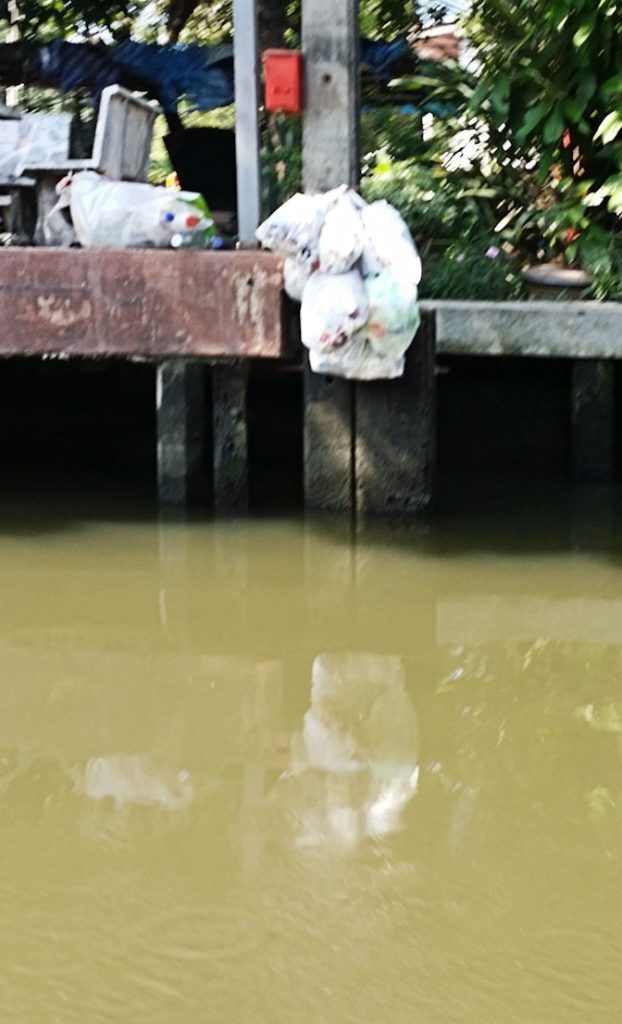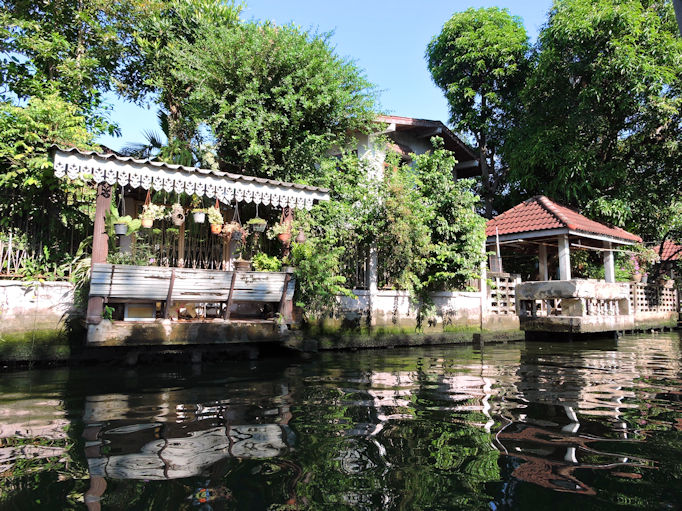 You don't have to take a tour with a guide. You can try to find a long tail boat to rent privately and negotiate the cost with the driver, much the same as you would do with a tuk tuk (or taxi). The Sathorn Pier (sometimes called central pier) usually has boats for hire. Of course it'll be more expensive than a tuk tuk and you'll face the same potential hassles that renting a tuk tuk presents.
---
On my tour of the khlongs my guide with Pandan took me to a market that really wasn't so much floating, as it was a structure on stilts. It was still cool and I appeared to be the only tourist there. I tried some different treats and some fun unique fruits.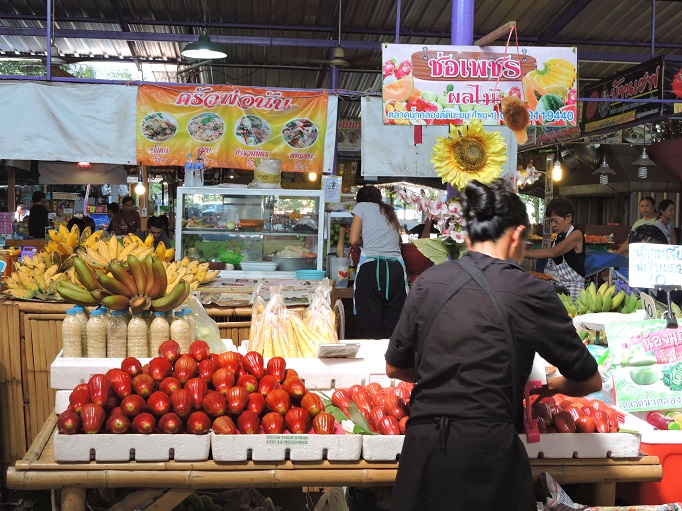 We floated past Wat Khun Chan.
Then stopped at Wat Paknam, which has a very ornate stupa and a newly built seriously large, bronze covered statue of the Buddha.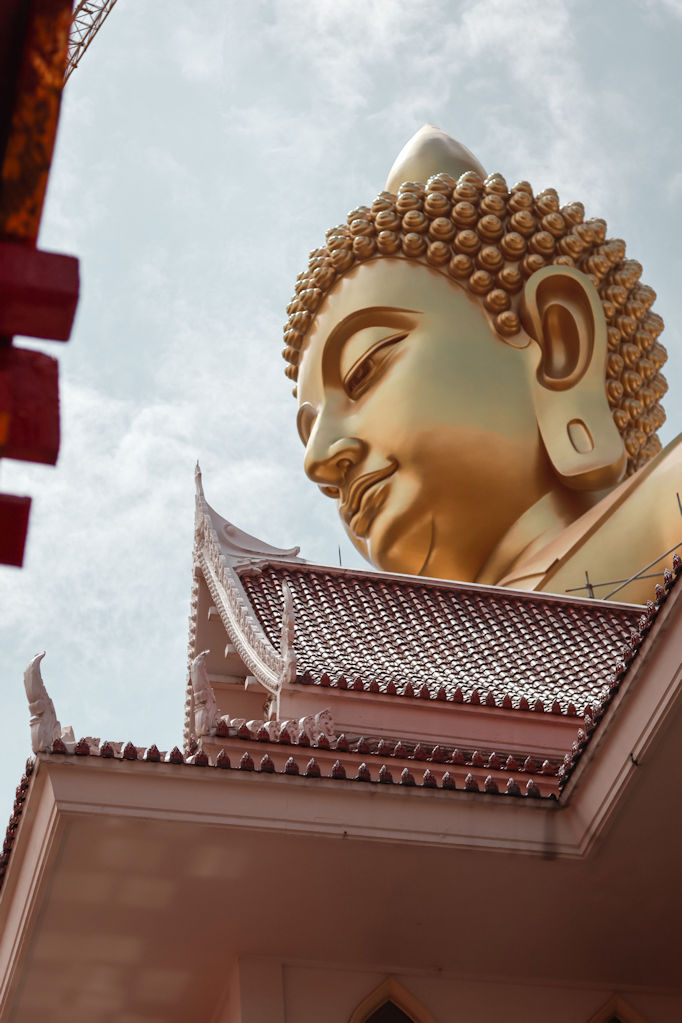 Further along we went to an orchid nursery.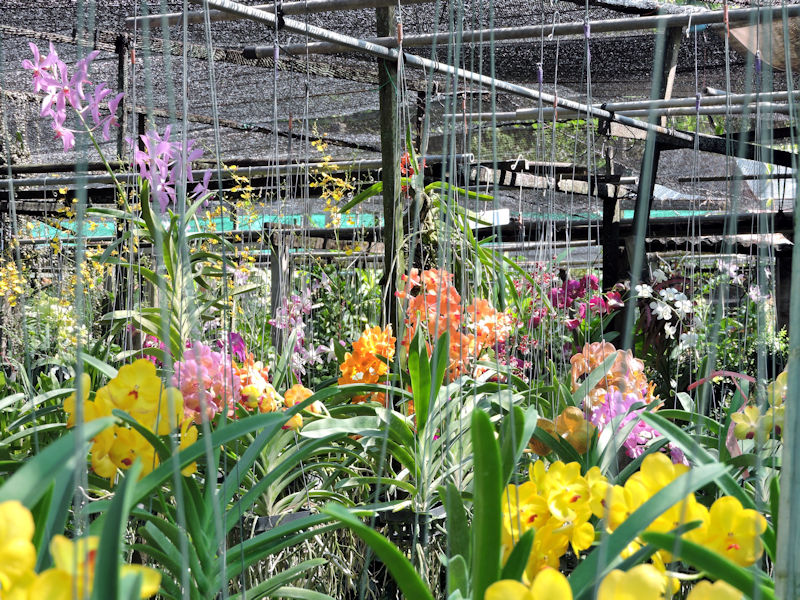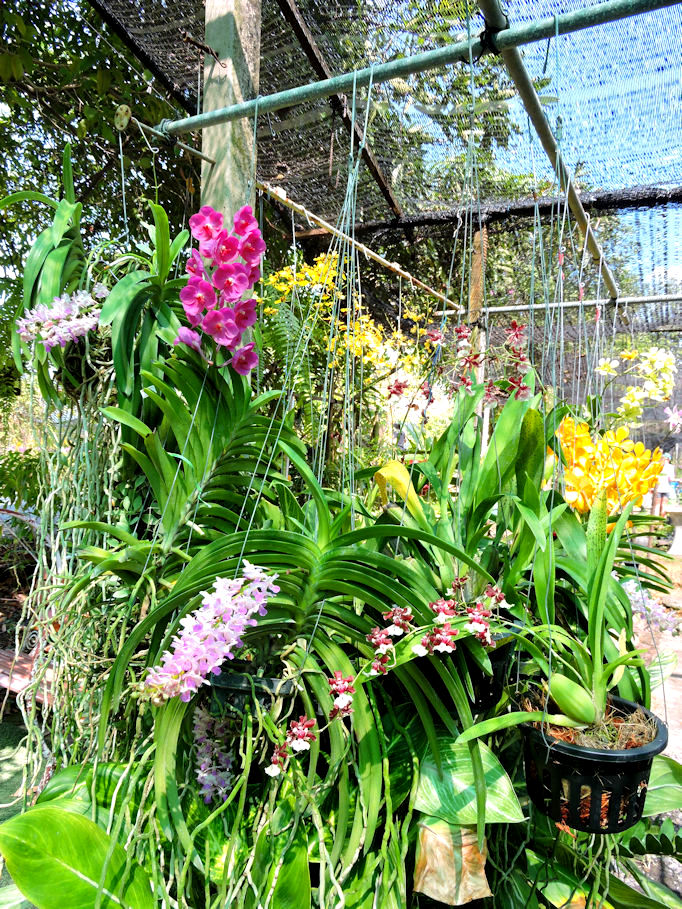 Saw the khlongs' iconic monitor lizard.
And then we stopped and had lunch.
After lunch we visited Khlong Bang Luang's Artist House.  I was a little concerned this might be a "tourist trap" sort of place, but (at the time I happened to be there) it was mostly local families who had brought their children there to take traditional dance theater lessons.  I watched them for a while as they learned new steps and practiced what they knew.
I absolutely adore all the Khlongs that run through Bangkok, but I think my tour through the canals in Thonburi had to be my favorite.  I loved the whole experience and when Bangkok starts to heat up there's no better place to be.  I'm pretty sure there was a delighted smile on my face the whole day.  🙂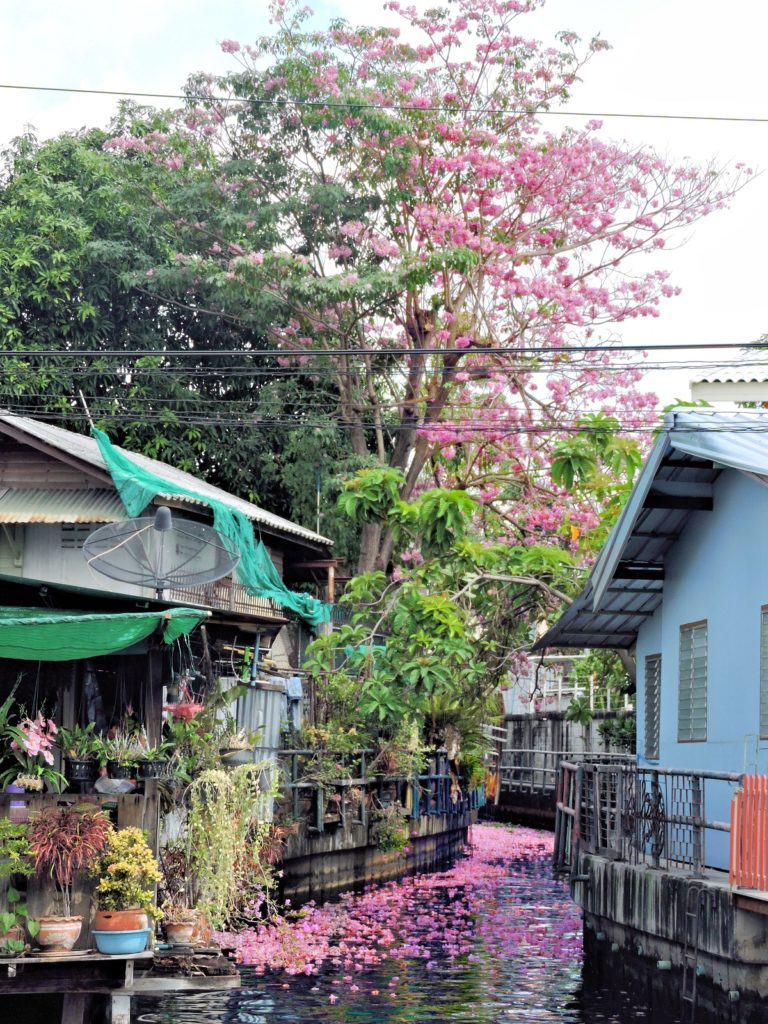 Bangkok
Thailand