From Mactan Cebu Airport I took a hired car down the east coast of Cebu to my hotel, the Granada Beach Resort in Boljoon. It was from my base here that I spent the next four days exploring whale sharks, hotsprings, and a profusion of waterfalls.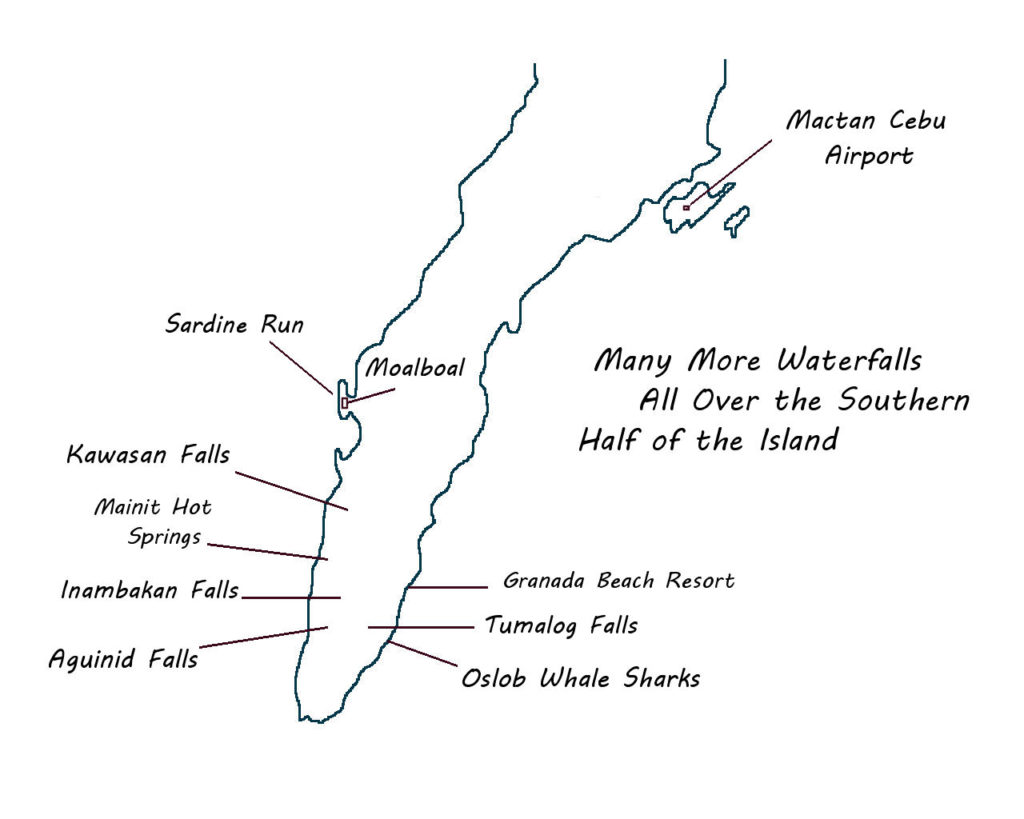 Boljoon and the Granada Beach Resort –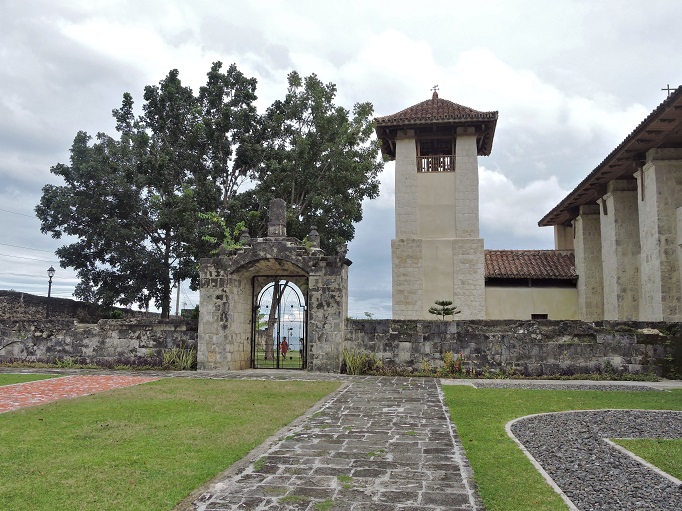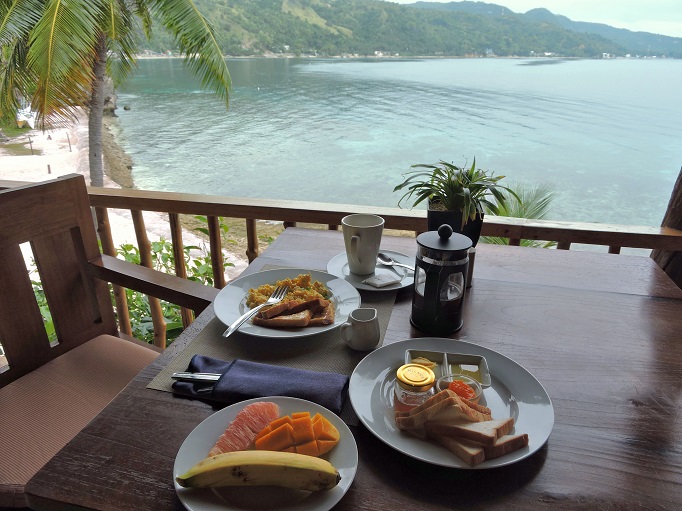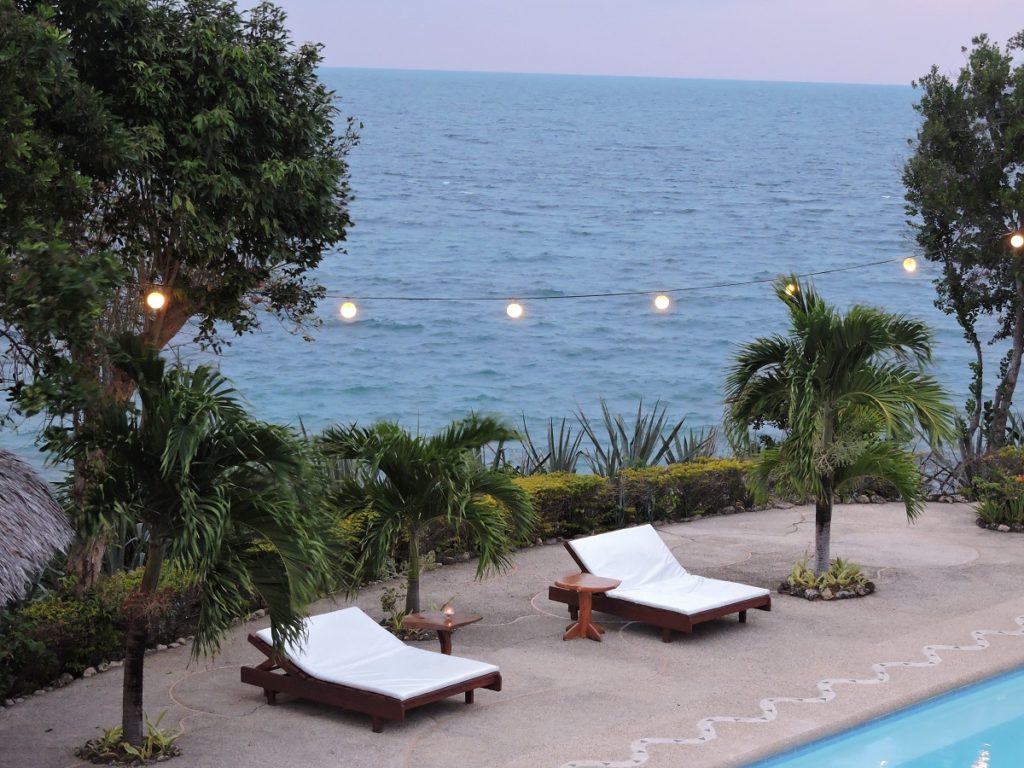 Oslob Whale Sharks –
This is where people go to swim with whale sharks. A busy place with lots of tourists, but fairly well organized considering the number of people. There are restrictions in place on the number of people allowed in the water at the same time. Tourists are broken into groups with time slots. Each group is only allowed to stay in the water for so long. Before your group heads out you are required to watch a do's and don'ts presentation and sign your compliance with the rules. You are not allowed to wear sunscreen in the water and there are showers where you will be asked to wash off. It should be noted that whale sharks are an endangered species and that they are fed in order to keep them coming to Oslob. Such feeding is controversial but has been allowed by the government as long as certain restrictions are adhered to. (Are the restrictions enough?… If interested I will include further thoughts and links to more information at the end of the post.)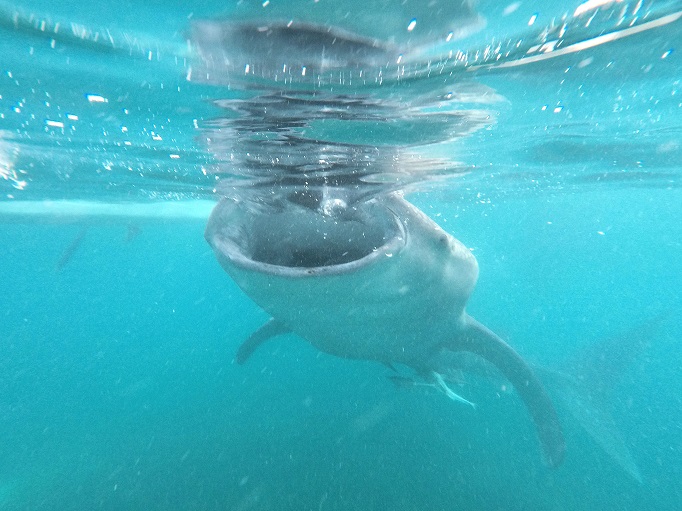 Tumalog Falls –
Located very near the Oslob whale sharks. While Tumalog is definitely a visually alluring waterfall, it is not the best swimming location. The quality of the water is murkier then you'll find elsewhere and tends to be a lot more shallow (although this will clearly vary some with the amount of rainfall). There is a rather strenuous and really quite steep trek on a paved road to get there. Or, one can pay motorcycle drivers a small fee to drive you from the parking area to the falls and back.
Mainit Hot Springs –
Serene rock pools situated along the river amid a lovely jungle backdrop. Each of the hot spring pools has a different temperature which is signposted next to it. Soothing tranquility and very relaxing. This place did appear popular with locals but luckily was not crowded.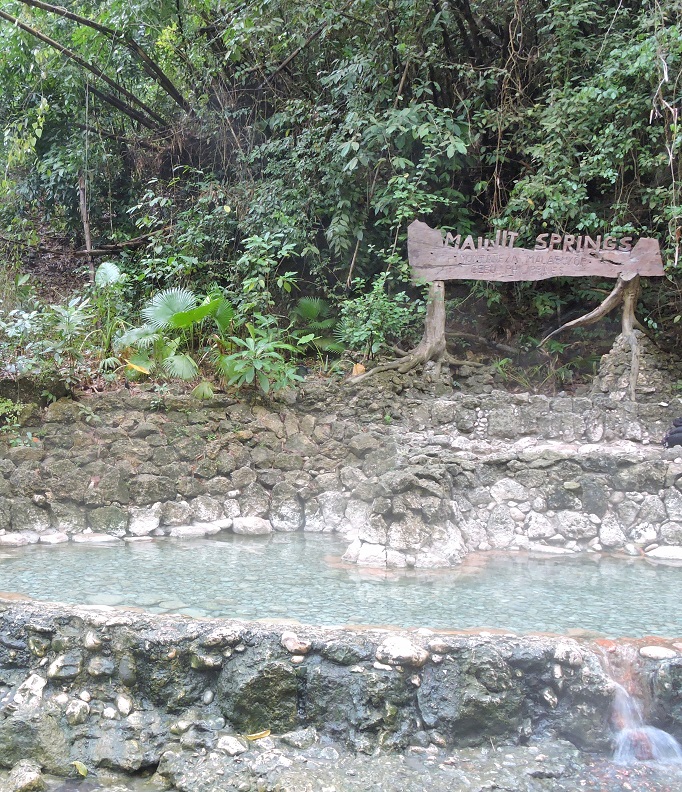 Kawasan Falls –
The most developed of all the waterfalls and the most crowded. Still very beautiful and the water is beyond blue. There is a lovely path along the river to get to Kawasan Falls. Once there one can find a couple restaurants or rent tables, life jackets, etc.. A multi-tiered falls, there is a descent trail that takes one up to the three main levels. Each consecutive level up is considerably less crowded than the level below. Kawasan Falls is also the typical end point for anyone doing a canyoneering tour.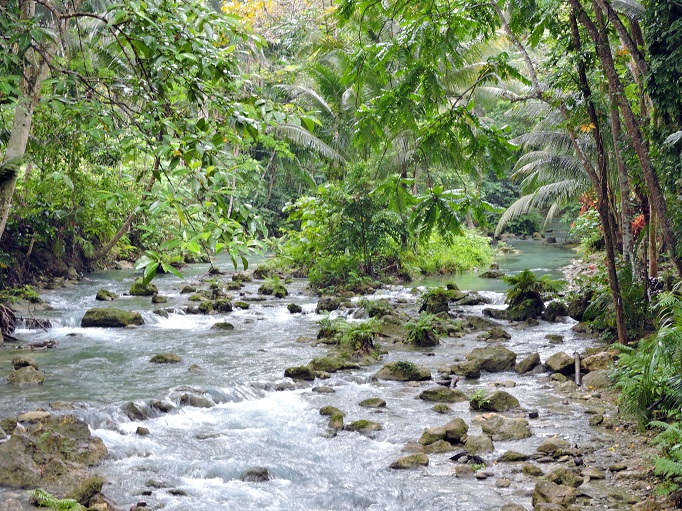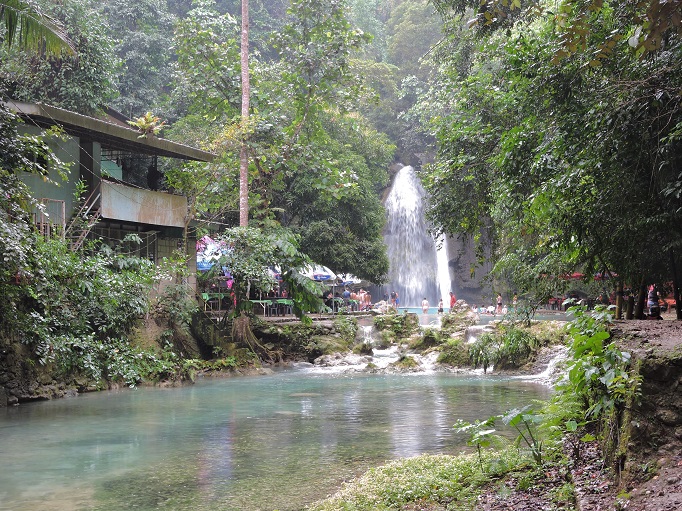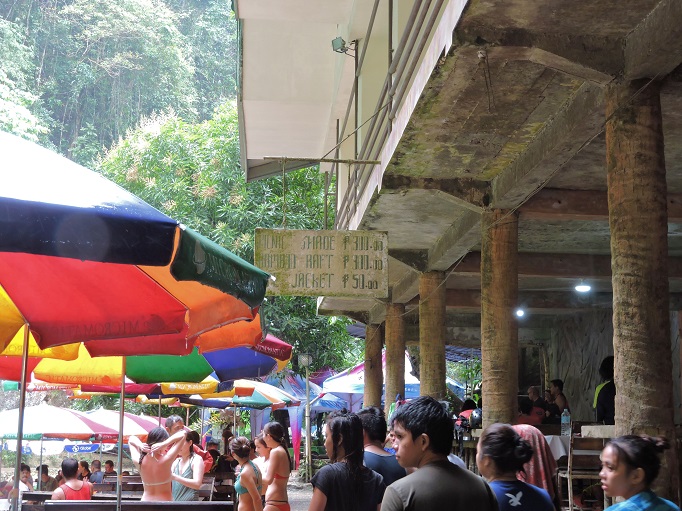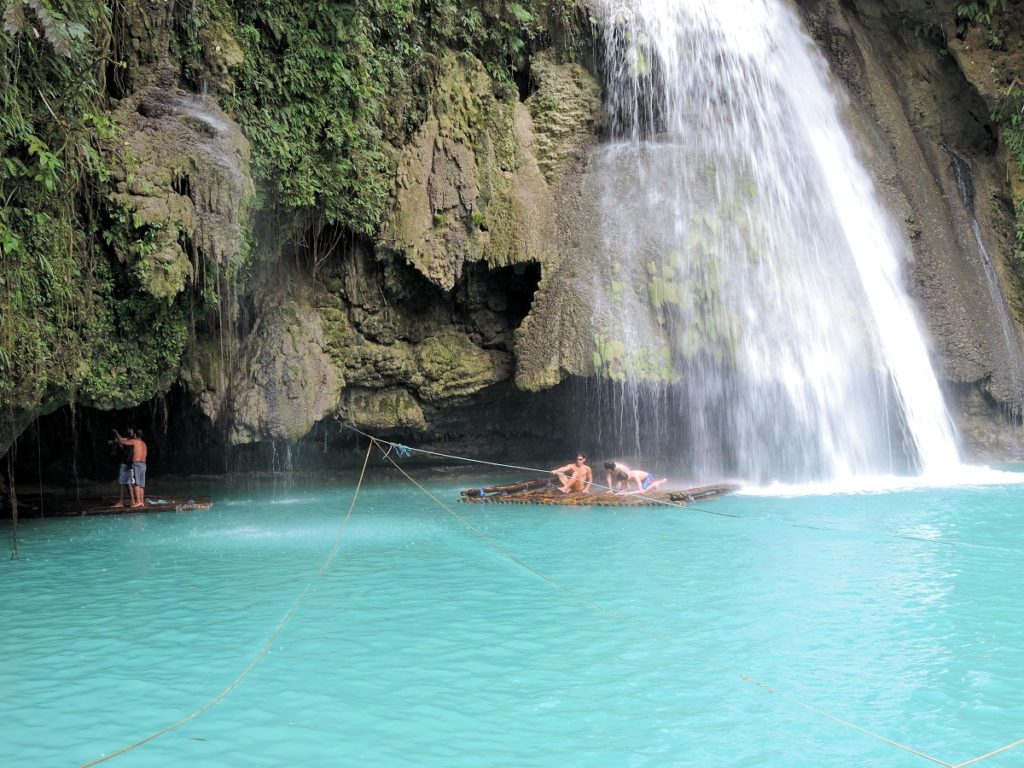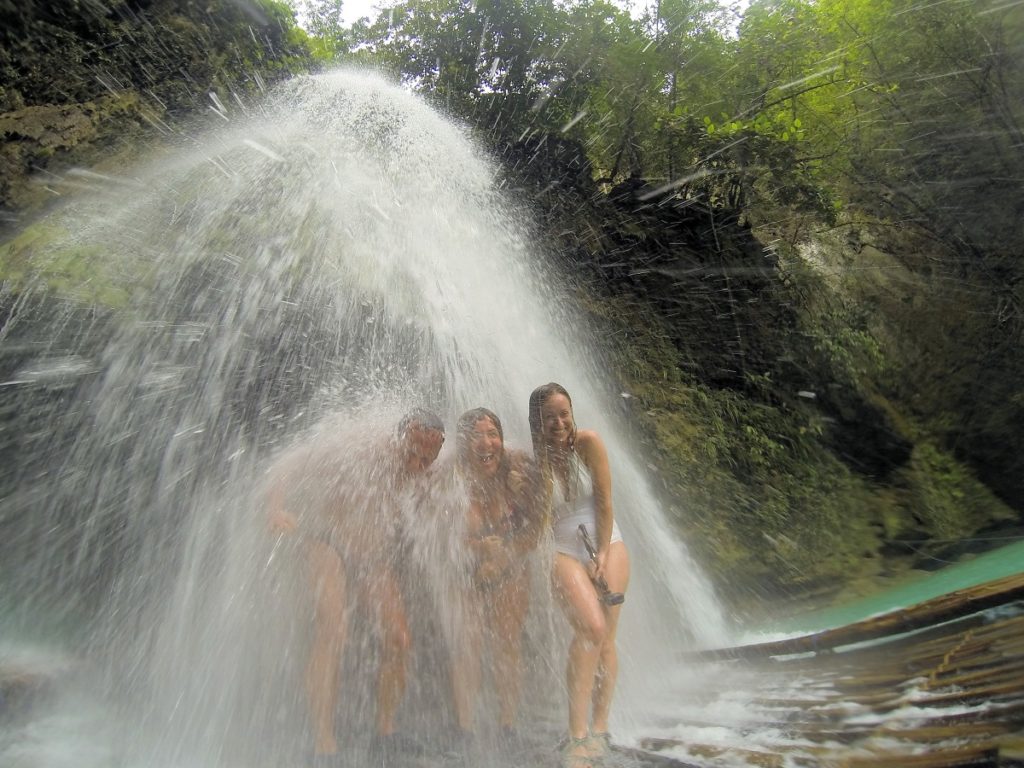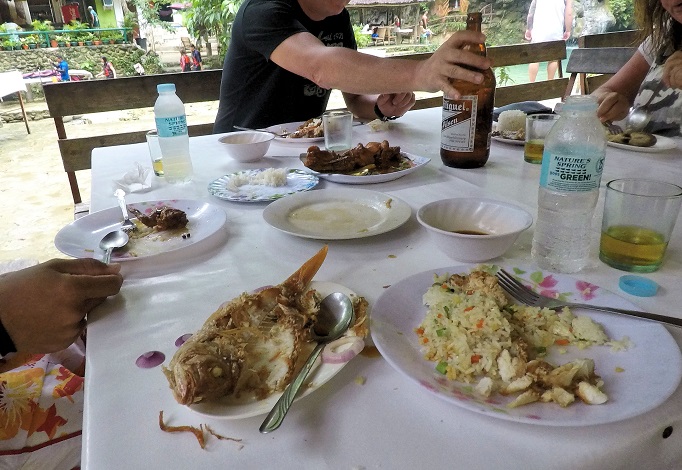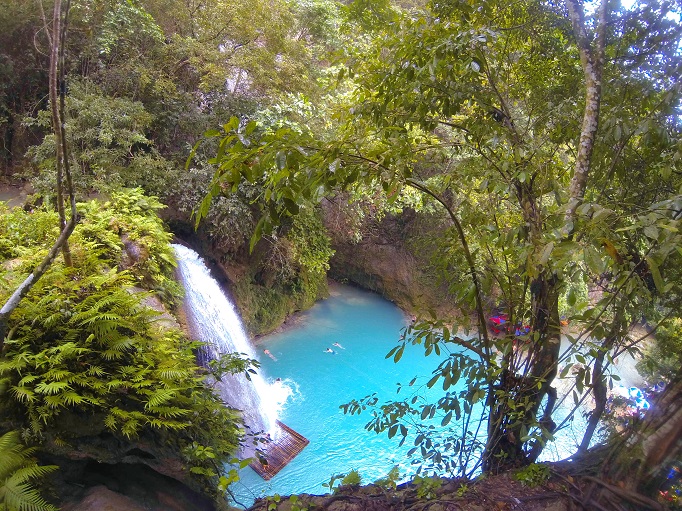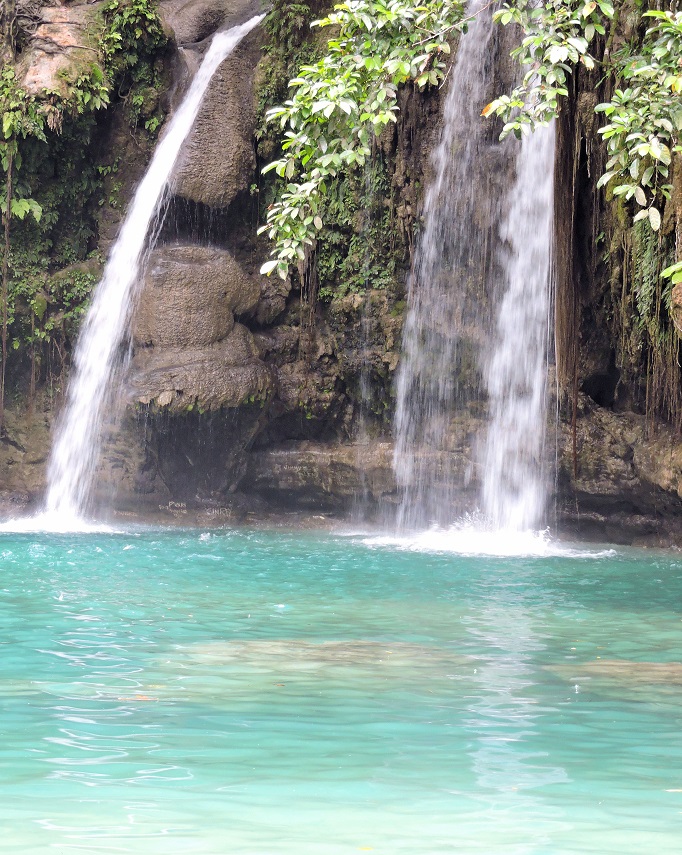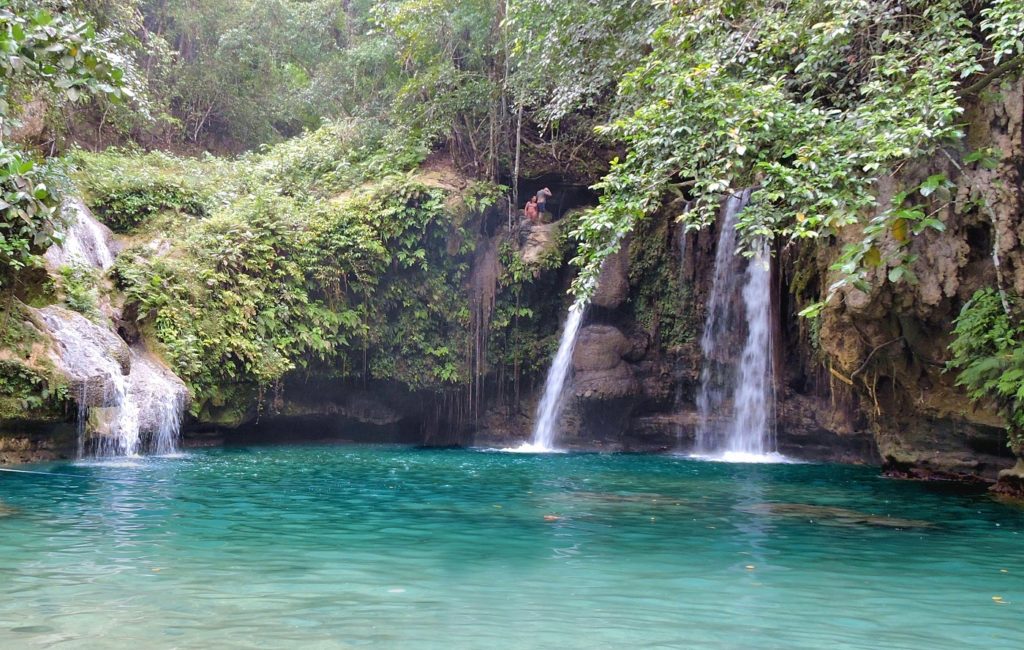 Aguinid Waterfalls –
Fantastic fun and beautiful. Several multi tiered levels, getting to the very top does require getting wet 🙂 Unlike other places, if you want to traverse the different levels at Aguinid Waterfalls you are required to hire a site specific guide, but it doesn't cost much and is included in the entrance price to the upper levels.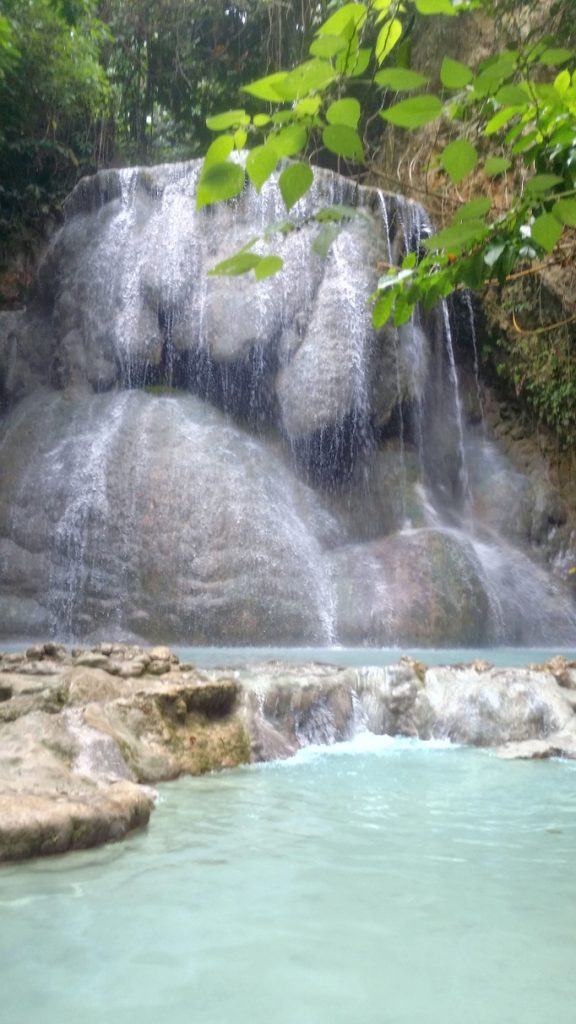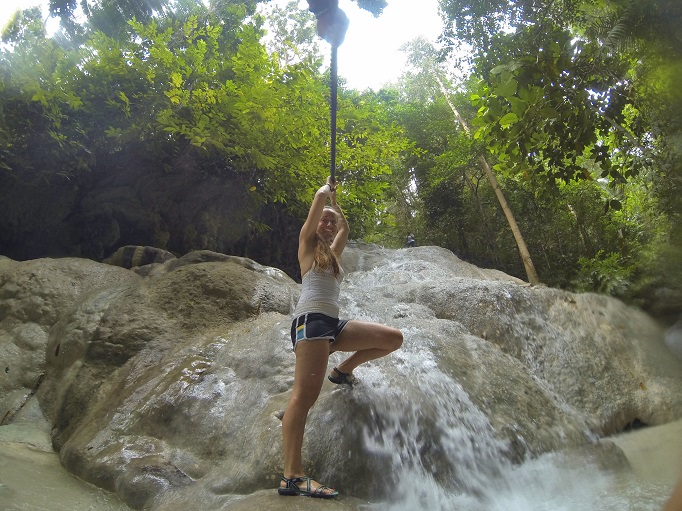 Inambakan Falls –
My favorite and a little more secluded than the other places. I was the only one here at the time… paradise.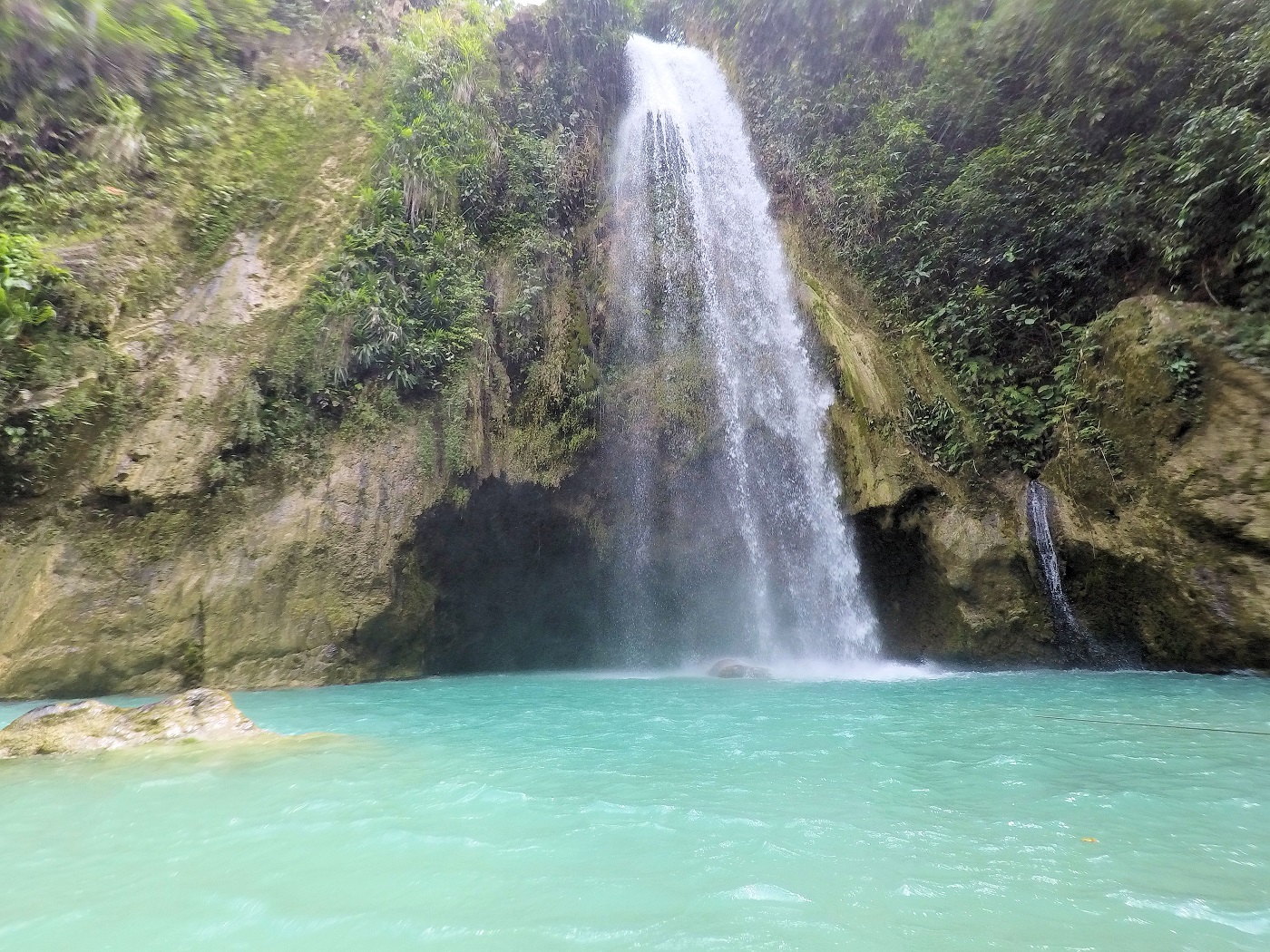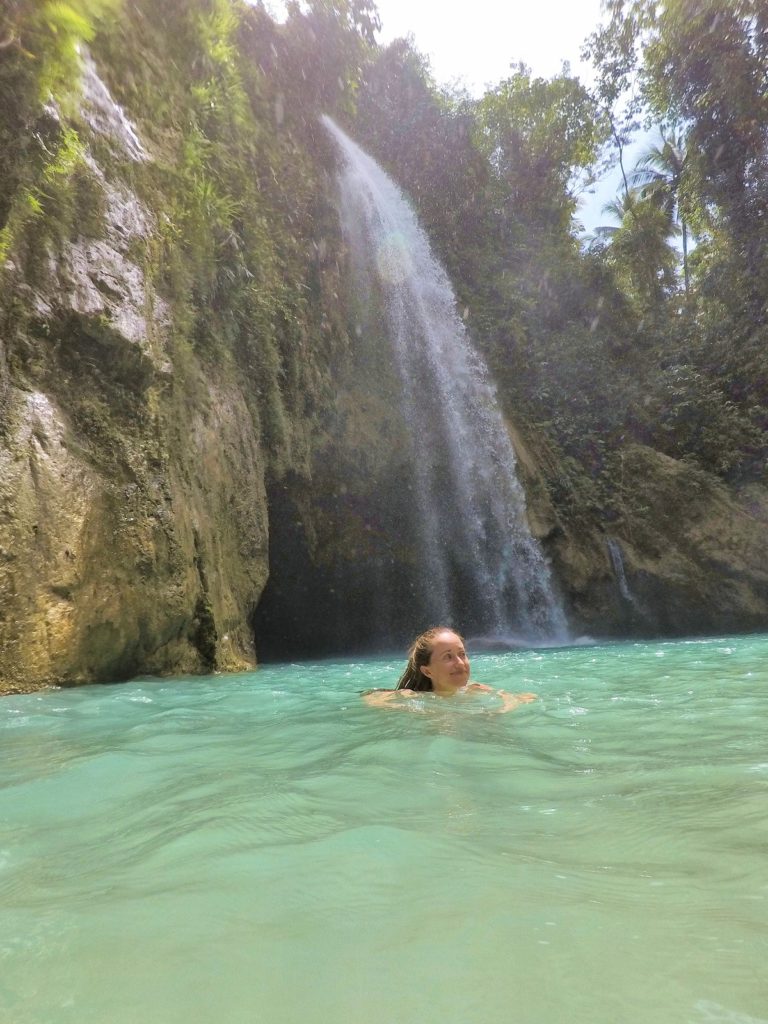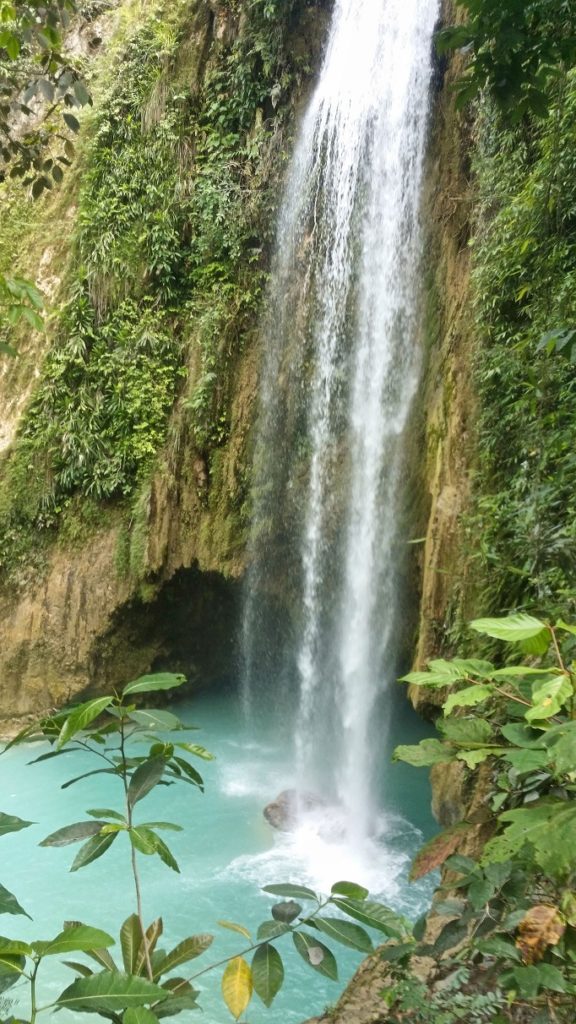 ---
Onward to the Sardine Run!
From the Granada Beach Resort in Boljoon I took the bus around the base of the island and up the west coast to Moalboal where I stayed for another three days enjoying the town and more importantly snorkeling with the sardines.
Moalboal –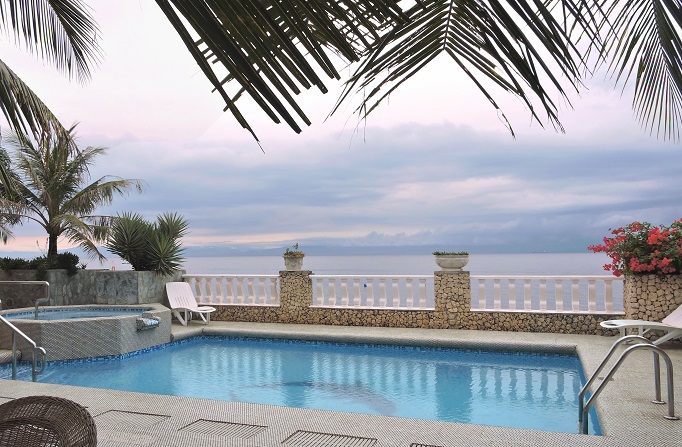 ~ Let's Go Snorkeling! ~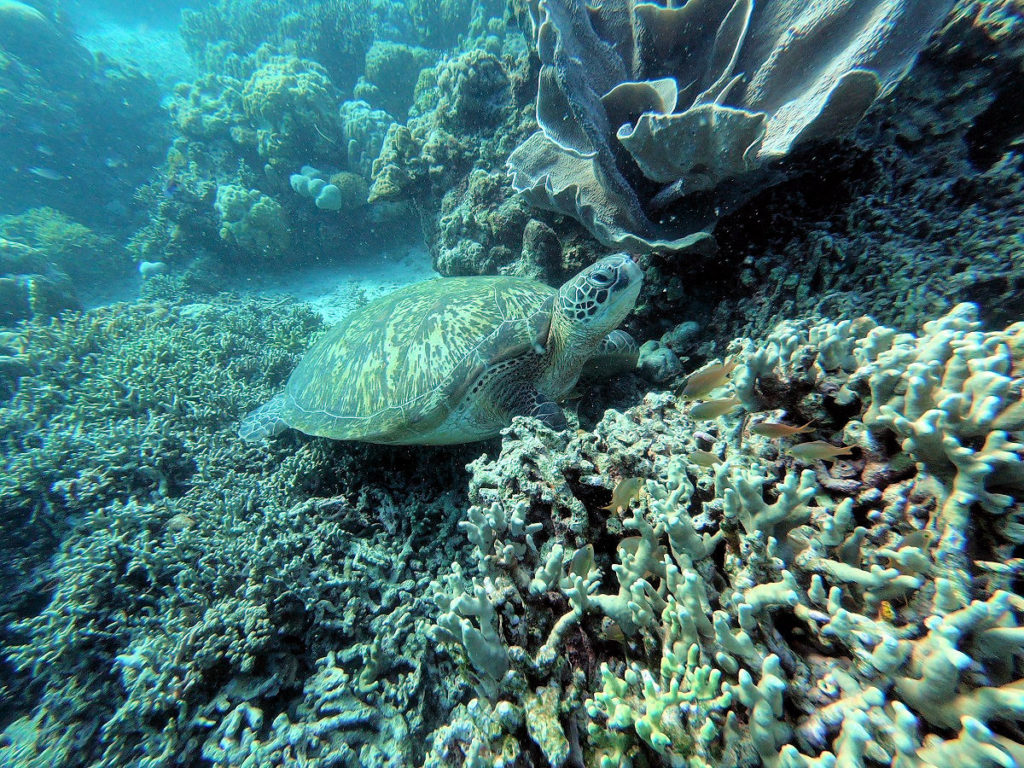 Moalboal and the Sardines –
The sardine run is located right off the coast of Moalboal. I have read that its exact location sometimes moves around. When I was here I don't think it was more than 30 ft from the shore. I should maybe mention, I was stung by a jellyfish while snorkeling with the sardines, not to scare anyone, lol. It didn't really hurt that bad, so I'm not sure if I just got lucky, if you can call getting stung at all lucky 🙂 or if the jellyfish variety typical of this area doesn't pack much of a punch. I actually wasn't even sure I'd been stung. I thought at first I'd scratched my leg and the salt water was making it sting. I kept trying to see if my leg was bleeding and looking around for what I could have scratched it on. That's when my guide pointed out the jellyfish and when I looked closer at my leg I saw the distinctive sting lines. The slight sting and the lines actually went away after about 15 minutes. I kept snorkeling for a while cause it was so awesome, but then saw more jellies and not knowing if I'd just been lucky or if any sting would be so minimal I decided to play it safe and called it a day. I do wish I'd brought some protective swimming gear with me so I could have stayed out longer without worrying. The sardines were mesmerizingly epic!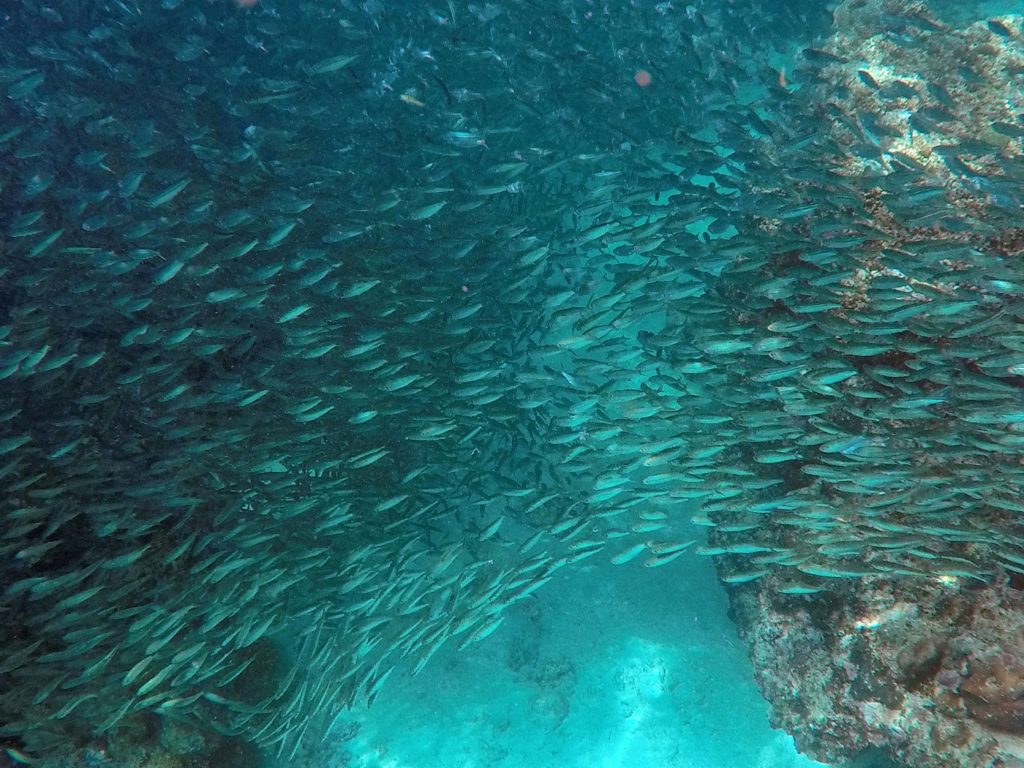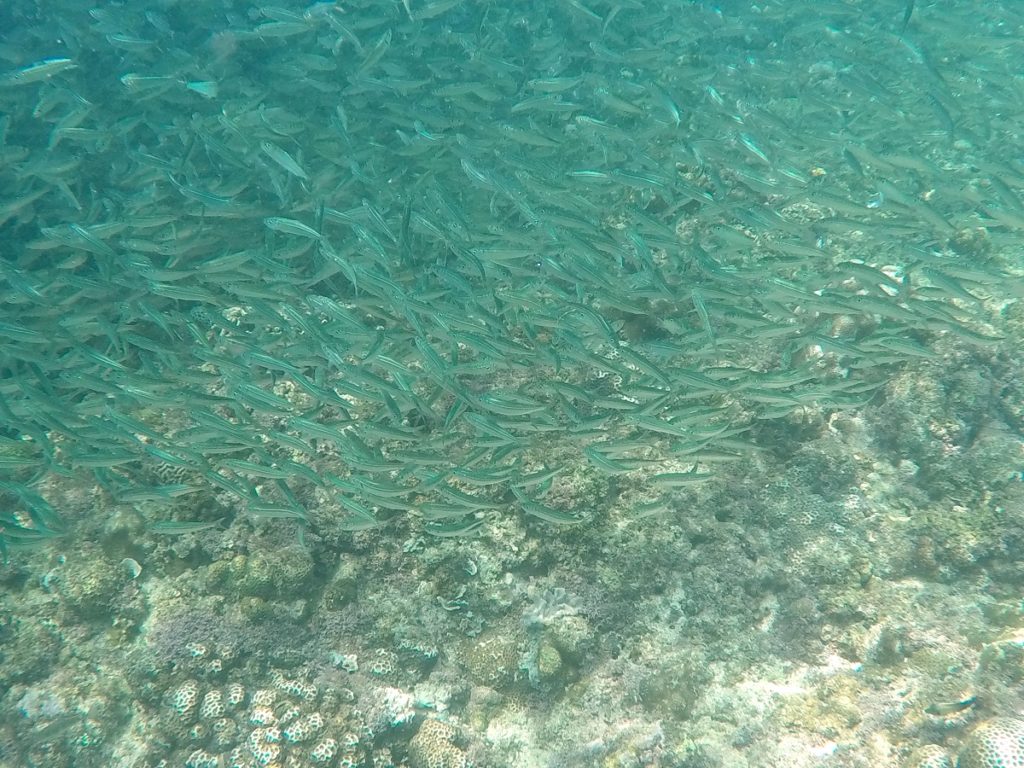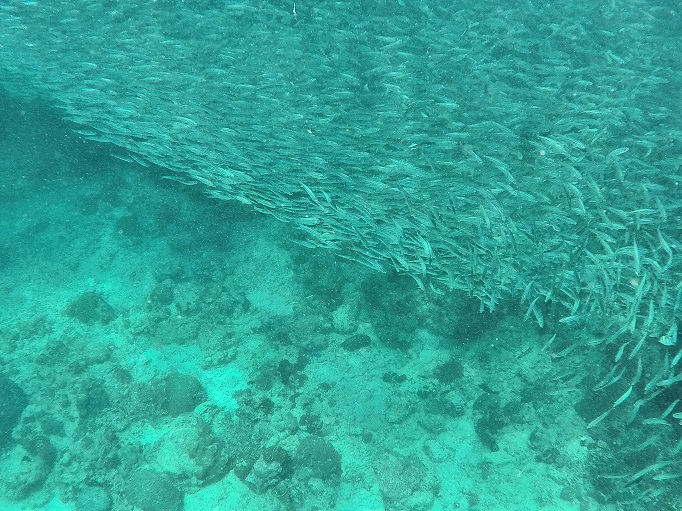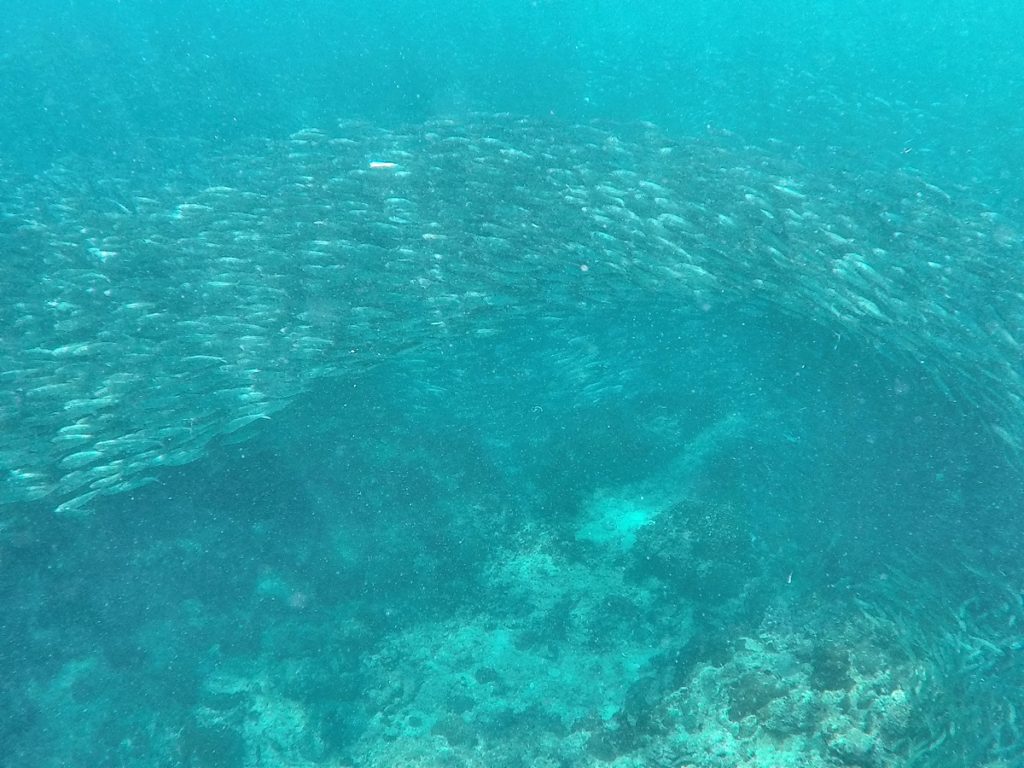 A few details about transportation –
A means of transportation is a must here as these places are spread out all over the south half of the island. The bus only travels the main road around the rim of the island. This will get one to the Oslob whale sharks and the sardines in Moalboal no problem, but most of the waterfalls are well off the main road. I arranged my transportation through my hotel. Unlike in Coron (See my post Traveling the Philippines: Island Hopping in Coron) in Cebu arranging tours and guided transportation is not necessarily something every hotel will be able to help with. It's not nearly the same straight forward process one finds in Coron. There are, certainly, tour guide companies in Cebu but most of these cater to people staying in Mactan or Cebu city. (Although there is a good chance they would be able to arrange something for someone outside the city, given the right price.) If one only has a short time in Cebu staying in the city may be ones best/only option – just be aware it is quite a long drive to get to most of these places from the city. Unless it is the only option I myself wouldn't consider them an ideal day trip from the city. I usually draw the line if I have to spend more time driving (there and back) then at the actual destination. Still the destinations are incredible and in the end it might be worth it to you.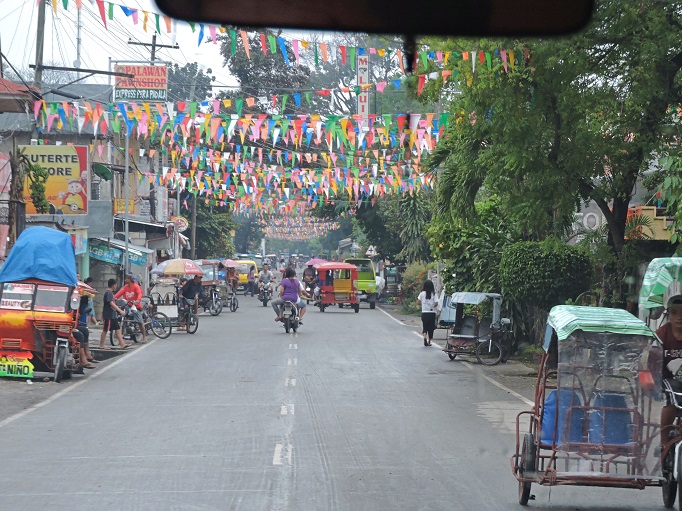 Taking the bus-
Cebu South Terminal links buses to the southern half of the island with places in the city, including Mactan Cebu Airport. (If wishing to go to the northern half of the Island one would use the North Bus Terminal.) So, leaving the airport (or vice versa) you'd first have to take a bus or taxi to the South Bus Terminal. From here, there are two routes of interest, one heading south along the east coast and one that cuts across the island and then down the west coast. Both the east coast route and west coast route terminate at the same location, near the southernmost tip of the island, where you'd get off one bus and onto another. So, for example, I got on the bus in Boljoon (east coast, southbound) and rode all the way to the southern tip of the island, which is the end of that line. I then had to change to a different bus, (northbound, west coat) to continue up to Moalboal.
---
*My thoughts and links to further information on the Oslob Whale Sharks – I was upset with just how close the boats get when dropping people off. It never occurred to me they would drop us off almost on top of the whale sharks. There was no need, most of the boats could easily have stayed further away. Honestly I felt very uncomfortable with the experience. I did not want to be dropped off so close. On the positive side, I had read only one boat per whale shark was allowed, which is why I had decided to go, and was glad to find this was adhered to (at least while I was there). My boat only had three people and a guide, so "our" whale shark had four people. (The sharks don't exactly stay in one place so one will swim off while another swims toward you.) There was a scuba diver there as well, our guide said he was an official to patrol or enforce the rules. In summary I think more restrictions are definitely needed, I personally would not go again, but they did seem to be trying and hopefully it will continue to get better.
I will provide two links to articles I think bring out two important sides to the issue.
The first is from a peer reviewed scientific journal, Journal Aquatic Conservation, Marine and Freshwater Ecosystems, Scarring patterns of whale sharks, Rhincodon typus, at a provisioning site in the Philippines.
https://onlinelibrary.wiley.com/doi/epdf/10.1002/aqc.3437
The journal article discuses research on injuries to whale sharks from boats. Specifically comparing the instance of injuries at Oslob to elsewhere.
I think it's also important to bear in mind the power wildlife tourism (if done right) has for good. This article by, The Conversation does a good job discussing the benefits of tourism. https://theconversation.com/poor-filipino-fishermen-are-making-millions-protecting-whale-sharks-122451
Cebu
Philippines