My friends and I went all over Tokyo, it was so much easier to get around to the major sites than we thought it would be. Even though it is a really big city and spread out over several districts the metro and train system are truly superb. It's a little intimidating the very first time but by the second and third your zipping through stations hopping from one place to the next. For a congested major city we were also surprised by how pedestrian friendly Tokyo was. Lots of pedestrian only streets, little pedestrian only bridges, and of course pedestrian crosswalks.
Thanks to the metro and trains we had a blast exploring Tokyo. The most important line in Tokyo for visiting the major sites is the JR Yamanote line, which is conveniently covered by the JR pass. (See my post JAPAN for more information on the JR pass.) Here is my own little map of the JR Yamanote loop in Tokyo where I've labeled the best places to hop off and explore.
Be Aware a lot of these stations have more than one line that stops at them. Some, like Shibuya station may have lots and lots of different lines. For a complete map of all lines visit the official Tokyo Metro website at https://www.tokyometro.jp/en/
Hop off at: Akihabara Station


When we hopped off at Akihabara, often called 'electric city', I felt like I was a kid again, so excited to explore I couldn't stand still. My friends and I dashed from building to building, floor to floor, room to room. Each place we went overflowed with arcade games. Lights and prizes everywhere.
At some point in the dashing whirlwind of exploration we wound up on a floor filled with immersive virtual reality games. There were too many choices for one night alone – I went with a scary ghost mystery that was fun and a shooting game where explosive objects kept flying at me and I had to physically duck or they'd hit me. (As in I had to move my actual body and head.) That game was wild, but unfortunately it also made me dizzy and a little sick. I probably wouldn't play it again lol 🙂
Change Lines & Hop Off At: Asakusa Station
Asakusa might have been my favorite area in Tokyo. Not directly on the JR Yamanote line but hop off the JR at Ueno station, hop on the metro Ginza line and then hop off at Asakusa station, (usually the third stop from Ueno station) it takes about five minutes. Asakusa is probably best known for the Buddhist temple, Sensoji.
The Buddhist temple Sensoji is the oldest temple in Tokyo. It is dedicated to Kannon Bosatsu, the Bodhisattva of compassion and mercy. In case you are unfamiliar let me explain what that means. I've always found even the most basic explanations help me interact with my surroundings on a deeper level and with Sensoji it helped me understand and appreciate the sanctity of the place.
Ok… So… What is Bodhisattva?
A Bodhisattva is a person on the path to becoming a Buddha, someone who has attained prajna (enlightenment) but who postpones nirvana in order to help others attain enlightenment. There are many different Bodhisattvas. There is the Bodhisattva of wisdom, the Bodhisattva of practice and meditation, the list goes on.. While all Bodhisattva are compassionate there is only one Bodhisattva Of Compassion. Called Kannon in Japanese, Guanyin in Chinese, Avalokitesvara in Sanskrit and Chenrezig in Tibetan. The Tibetans believe The Dalai Lama to be a reincarnated emanation of Chenrezig, the Bodhisattva of Compassion.
Kannon (again, the Japanese name for the Bodhisattva of Compassion) can manifest on earth at will and has the ability to assume any number of different forms. In Japan and China Kannon is often portrayed as female and called the goddess of mercy. The Chinese name Guanyin or Kuan Yin apparently means, (the one who) perceives (or hears) the sounds (or cries) of the world. In Japanese Kuan Yin came to be pronounced as Kannon.
It should be noted that Bodhisattva can also refer to or be seen as, not really a specific revered person, but rather, a way of being. According to Chögyam Trungpa Rinpoche, "The Bodhisattva vow is the commitment to put others before oneself… And a Bodhisattva is simply a person who lives in the spirit of that vow."
The Bodhisattva from, "The Collected Works of Chögyam Rinpoche Volume Three" published by Shambhala Publications. See Lionsroar.com for a copy of the complete article.
Ok… So… Sensoji Temple is dedicated to Kannon, who hears the voices and concerns of the world and assists all those who pray to 'her.' As the Bodhisattva of compassion and mercy 'She' has put off nirvana (entering paradise) and stayed behind in order to ease suffering and help others attain enlightenment.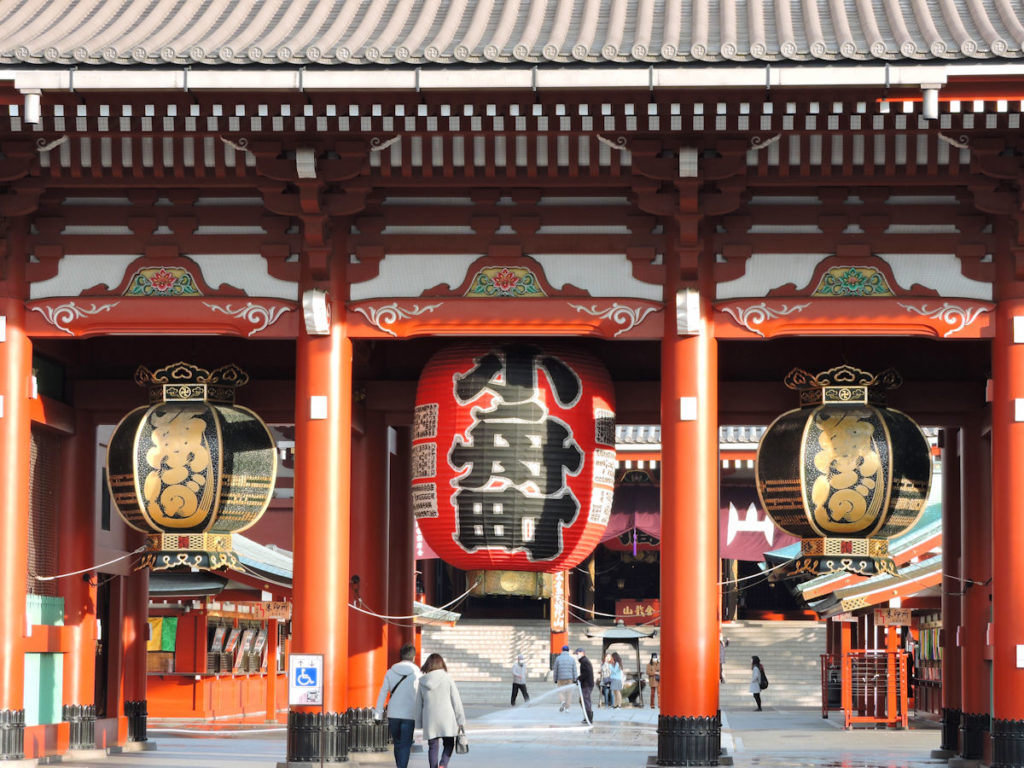 The pedestrian only street leading up to Sensoji Temple is lined with souvenir stalls, food vendors and small restaurants. A network of little streets with shops and eateries spreads out a ways from the temple. It's one of these streets, Orange street, where you'll find the best place to shop for a Kimono. (See my post, The Best Place To Find And Buy A Kimono In Japan). The afternoon and early evening are the best time to enjoy the streets, this is when they come alive. If you only want to visit the temple (to pray or contemplate) and prefer a quiet atmosphere then early morning is the best time to visit – just be aware none of the shops will be open. While I found the early morning to be peaceful and reverent I have to say (for myself) this is one of the few temples I actually enjoyed more in the evening with all the happy people strolling about. It felt so festive, like walking through a cultural celebration.
SkyTree Tokyo –

If you're in Asakusa it's an easy twenty minute walk to the Tokyo SkyTree. My friends and I thought the walk, crossing over the river, was rather pretty but if you're all walked-out there is also a SkyTree metro station and a couple lines that stop there. The SkyTree does have a great view of the city but at just over thirty dollars a ticket to get to the top, I can't really recommend the experience. There are, however, two viewing levels and you can pay less to access just one level. My friends and I agreed, there was little discernible difference between the lower and upper viewing levels. My friends and I aren't budget travelers, but we also don't believe in wasting money and, all in all, the view just didn't seem worth the price tag.

Hop off at: Tokyo Station
Hop off at Tokyo Station to see the Imperial Palace. There are other stations served by different lines that also stop near the Imperial Palace, but if one is traveling on the JR Yamanote line, then Tokyo Station is the place to get off. While you can't freely enter inside the grounds except on special occasions, there is a guided partial tour of the grounds offered. You have to register for it and only a certain number of people are allowed each day. To learn more or to apply for the tour visit https://sankan.kunaicho.go.jp/english/index.html
Even if you can't go inside you can still walk around outside the Imperial Palace and enjoy the gardens, moats, bridges and views of the palace walls.

Hop off at: Hamamatsucho Station
Tokyo Tower (different from the Skytree Tower, it's the one that looks more like a red Eiffel tower) is located in the area of Tokyo called Minato City. Hop off at Hamamatsucho station to visit not just the Tokyo Tower but also Zojoji Temple. Zojoji is a temple of the Jodo Shu – Buddhist Sect, which is a branch of Pure Land Buddhism. In Pure Land Buddhism it is believed that Amida Buddha grants salvation to those who recite the Nembutsu prayer. This salvation grants them access to the Pure Land of Bliss after death. From a purely visual standpoint Zojoji Temple presents a very striking and iconic appearance with the Tokyo Tower rising right behind it.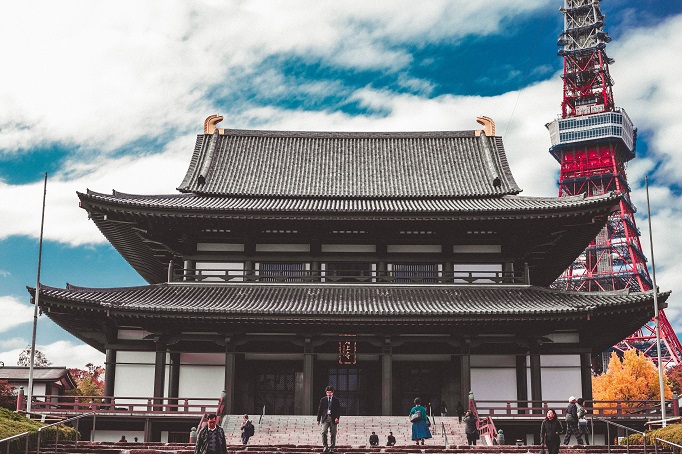 From Hamamatsucho Station it is a slight walk to the temple, maybe ten minutes. There are metro stations that stop closer but they would involve changing lines. If traveling the Yamanote line Hamamatsucho is the closest station. I recommend the North Exit from the station. It is a straight shot (and fun lively street) with good crosswalks from there to San Gedatsu Mon Gate (A primary entrance to the temple). The South Exit leads to streets with no crossing and requires a bit of deviation.

Hop off at: Shibuya Station
Shibuya center is a great place to experience the energy of the city. Crowded places fascinate me by how fundamentally different they can be. There are crowded places that drain you, they suck the life out of you and leave you with nauseous memories of a headache. And then there are crowded places that actually give off energy. They infuse you with an infectious, vibrant, enthusiasm. They sparkle with life. I'm not sure what makes a place one or the other but I do know Shibuya made my tired friends and me, towards the end of the day, wake up and come alive.
Hopping off the train or metro at Shibuya station is a great place to just see the city itself. Shibuya is probably best known for its famous Shibuya Crossing, where traffic lights stop vehicles going in all directions at the same time and pedestrians, and lots of them, fill the entire intersection. It is a perfect example of Tokyo's organized chaos and just one more representation of the juxtaposition that is Japan. (Which I mention in my post JAPAN). Shibuya crossing is also where you can find the statue of the loyal Akita dog Hachiko, who used to wait at the train station every evening for his human companion to come home from work. After the human died the dog would still wait at the train station every evening for him to come home. After waiting for nine years the loyal dog Hachiko passed away as well. The story makes me sad, but it's a good place to meet up, especially if you get separated from others in your party among the crowds. If you're a fan of the movie, Lost in Translation with Bill Murray (he's my favorite!) Shibuya center is also home to the karaoke bar in the movie – Karaoke Kan Shibuya.
Hop off at: Harajuku Station
Harajuku is technically part of Shibuya district, but has its own station (or more accurately is the station, since the particular area is named after the station). Technicalities aside the area around Harajuku station is called Harajuku and has its own distinct personality. Best known for the very crowded pedestrian shopping street Takeshita (although it's often called Harajuku St) located directly across from the station exit.
Harajuku wasn't my favorite place in Tokyo, but it was fun to check it out. I found it a little on the touristy side myself, which sounds weird to say because all the places we went had lots of tourists, but Harajuku just seemed more "touristy" somehow. The souvenirs in Harajuku looked mass produced and cheap. (Cheap but not inexpensive! Lol). It was an odd mix, there were some nice fashion boutiques and cool used clothing stores and then there were major chains, like McDonald's, which my friends were super excited about. Apparently McDonald's in Japan has special menu items you can't get in the US. I'm not that interested in McDonald's myself, and was decidedly less excited. All in all while there definitely were some cool unique stores, a lot of the places actually seemed to have the same stuff over and over again. A lot of t-shirts and keychains… oh and I didn't see anyone in any costumes, (which all the guide books talk about) but still it was fun and it's a really easy place to check out.
A better reason to get off at Harajuku station, in my opinion 🙂 is to visit Meiji Jingu, one of the best Shintō shrines in Tokyo. The entrance is also right across from the station, on the opposite side from Takeshita street. The shrine is surrounded by a large tree filled park and feels almost like a forest in the middle of Tokyo. This Shintō shrine is one of the homes for the deified spirits of the Emperor Meiji (also called Meiji the Great) who lived 1852-1912 and his wife Empress Shoken.
Hop off at: Shinjuku Station
Shinjuku, well known for Kabukicho street, or the so-called "red light district" it didn't really seem like much of a red light district to me. Some stores had sex paraphernalia but it usually seemed to be safely tucked away in the back or on a designated floor of the store. There are of course Host and Hostess clubs here, which have a reputation for charging people two legs and then stealing an arm, but really I think the "red light" nomenclature comes more from its history in the 80's and 90's than its current state. Today you'll sometimes hear it more aptly called the "entertainment district." There are several movie theaters and live music venues here.
If you're at all concerned about coming here at night, there's plenty to see during the day. You can get up close and devoured by Godzilla. It's free too. Just make your way up to the 8th floor of the Toho Cinema building. The eighth floor is also the lobby of the Hotel Gracery. Then make your way outside to the terrace and be eaten alive.
Shinjuku is also home to two of the best known Yokochos: Golden Gai and Omoide Yokocho, aka "piss alley". Yokocho, although the word itself really just means alleyway, is the name given to denote alleyways lined with tightly packed very small restaurants and bars or izakaya (Japanese pubs), often with a maximum capacity of five, maybe eight people. Little Yokocho alleys can be found in cities all over Japan. They all share a distinct atmosphere of historical nostalgia steeped with a strong feeling of authenticity. Of course the two yokocho in Shinjuku (Golden Gai and Omoide) have become quite popular and, as happens with all things, its well known popularity has led to some increased prices and perhaps less authenticity then gave rise to its popularity in the first place. You will usually find cover charges or minimum order requirements at both places. Still these are very enjoyable areas to visit if you can let go of what they may have once been and accept them for what they are now.
Oh and let me just briefly mention, also located in Shinjuku albeit a bit further away from the station, is the Park Hyatt, the hotel from the movie, Lost in Translation 🙂
Japan
Tokyo