I've dreamed of traveling to Angkor since I was a kid and I bought a National Geographic photo book, at a library used book sale, for a dollar. Somewhere right around the middle was a photograph I'll never forget…. my curiosity took flight and my imagination went far. As an adult, I was so worried when I finally traveled there, expectations when built too high can often lead to disappointment and mine had been given over twenty years to soar quite high. But Angkor prevailed, the magical and mysterious temples and ruins did not let me down. They will always be one of my favorite places in the world.
The temples at Angkor are very spread out and there are a lot of them. Local guides and drivers organize them into two main circuits, the small circuit and the grand circuit and the outlying temples (those outside the two main circuits) are referred to individually.
Visiting any of these spread out temples requires time and a means of transportation. For the two main circuits I preferred the Cambodian style tuk tuk, called the remork motto.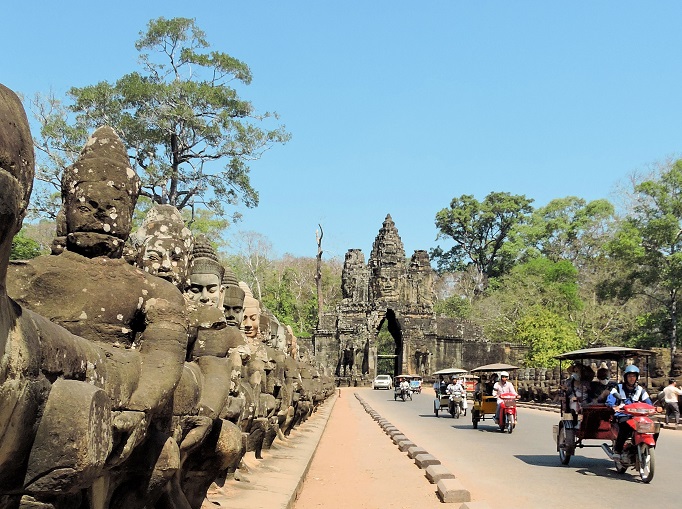 I loved the ambience and adventurous feel of the remork. Being open to the air gives a sense of connection to the surroundings. It's also a lot easier to take photos from an open remork and to hop on and off as well.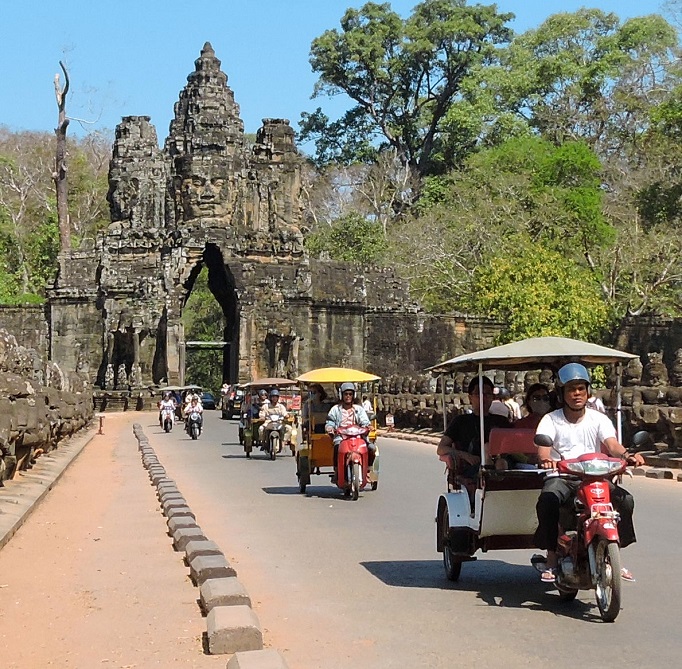 For the outlying temples including Banteay Srei I found the remork less ideal.  The remork tends to be much slower than cars, buses or even motorcycles.  On the main circuits it doesn't matter as much as there are certain areas throughout where everyone has to drive slow and while there may be places a bus will pick up speed the buses actually are limited in where they can go and park.  But the outlying temples are found on dusty, heavily trafficked, country roads where anyone who can drive fast, will, and cars, buses and motorcycles will constantly fly past you and every time they do they will kick up and cover you in dust.  Not just any dust but the very unpleasant oily, grimy, petrol covered kind of dust.  I loved the remork on the small and grand circuits so much I made the mistake of taking one to the outlying Banteay Srei, what should have been a quick 25-30 minute ride stretched into eternity.  I was worn out from breathing in petrol dust and having a coat of grime covering me before I even got there.  Ok, it wasn't that bad, 🙂 lol, but it wasn't fun either. 
The Beautiful Banteay Srei and Its Sandstone Temples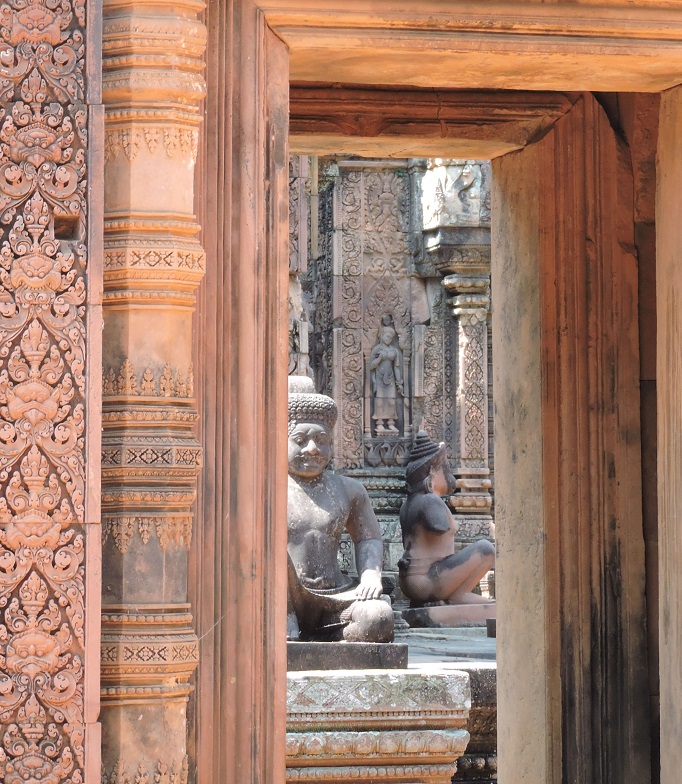 ---
For essential details the official website to the Angkor Unesco heritage site can be found at, angkor.com.kh Here can be found the most up to date and accurate entrance times and the fees for the different available passes. Also notifications, such as possible closures of individual areas for restoration work. One never knows when opening hours and fees might change. I believe it's always a good idea to get this type of information or at least to always double check it from official sources.
Angkor Wat
Angkor Wat, the "temple city", while perhaps the best known, is just one of the temple monuments at Angkor. However, possibly because Angkor Wat is the best known, it definitely seems to be the most popular or at least the most crowded of all the temple monuments. The main entrance to the temple of Angkor Wat called the causeway is very very crowded.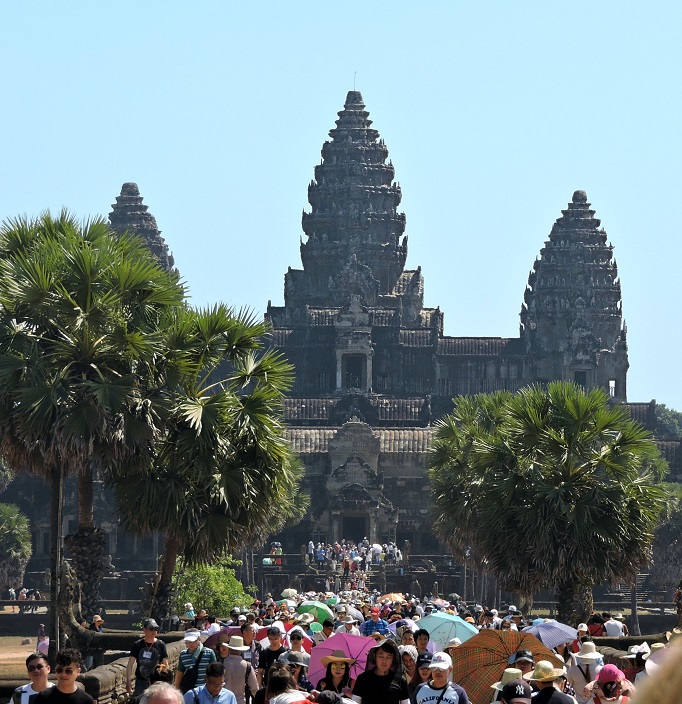 Most of the main areas of Angkor Wat are also very very crowded. The completely crazy part that is hard to believe is that when I went to side entrances, which had just as beautiful a view, there were only a few people. A very very few! The most likely reasons? Probably some people are on rushed guided tours that go up the main causeway through the main sections and then on to the next temple. Maybe other people go where they see most other people going? Also a lot of people only go for one day and if they want to see more than one temple in one day there probably isn't time to walk around. My best recommendation, find the time to walk around, view the temple of Angkor Wat from one of the other three sides, the magical view and the serenity are worth it.
In the very middle of Angkor Wat is the central tower sanctuary called Bakan. It is a rather steep climb up and only 100 people are allowed up at a time, this means waiting in line. If you want to visit the central sanctuary, definitely do it first and as early as possible, then visit the rest of the temple afterward.
It is less about the line getting longer and longer (although this tends to happen as well) but more importantly for me at least is the sun rising higher in the sky. The line has no shade. Depending on the time of year, anytime after late morning you will be standing in direct, blazing, burning, sunfire. In my experience lines are infinitely long and slow when standing beneath a blazing sun relentlessly trying to incinerate you. It all too often succeeds at vanquishing the spirit, no? I visited the temple of Angkor Wat around midday, my first day, but didn't go up the tower that day, instead I came back the next day to visit the central tower sanctuary first thing. Honestly the line was almost just as long, maybe a tad shorter but the sun hadn't risen high enough over the walls of the inner courtyard, where the central tower is located, and was thus still in the shade. The line in the pretty courtyard shaded from full sun was almost pleasant (if any line can really be called pleasant 🙂
---
At sunset many people head to Phnom Bakheng temple complex, sitting on top of a hill it offers spectacular views, especially of the setting sun. Even though there is a maximum capacity of 300 (the degree to which this is enforced seems to fluctuate) it does get crowded here at sunset, so when coming here at that time it's best to arrive a little early. But here's the best part, because most people not staying in town or at their hotel head to Phnom Bakheng to watch the sunset, it truly makes it the perfect, most magical, time to re-visit other temples and watch the sunset from their thresholds instead. Surrounded not by other people but by birds chirping their early evening songs. Such a special moment and simply my favorite experience at Angkor.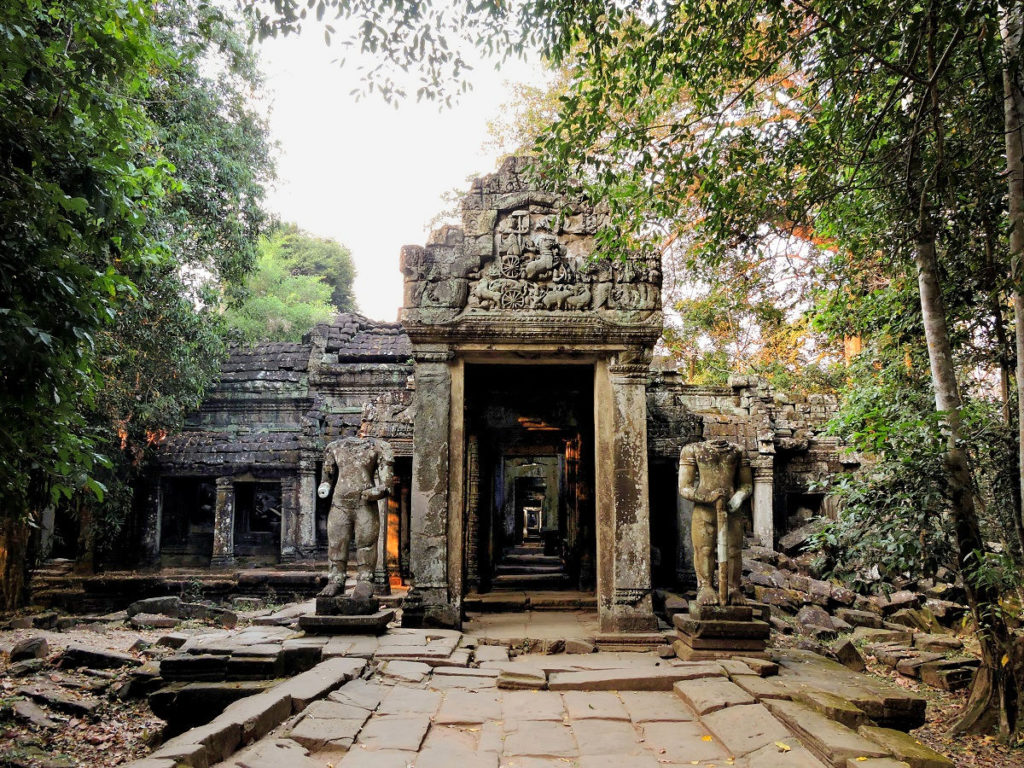 Before going to Angkor I'd read about the common experience of temple fatigue… people get tired of looking at ruins and temples… lol. I certainly got physically tired walking in the sun all day but I never got bored exploring the temples. Although I do admit after awhile the temples did start to blur together losing a little of their individual specialness. The cure of course is easy. I broke up my exploration of Angkor by checking out the town of Siem Reap. The town has numerous markets to shop for souvenirs and the well known Pub Street has a lively yet laid back vibe and is filled with restaurants.
In addition to the town I also toured a bit of the countryside. I decided to skip Tonle Sap Lake and it's floating villages. I'd read a good deal of controversial reviews with regard to the floating villages. Instead I took a guided motorcycle tour along one of the rivers.
Watching everyday life on the back of my guide's motorcycle was a great change of pace. The fishermen and children, the way they fish, some of them diving under the water and swimming with small nets. The farms, the water buffalo, the families having picnics, and monks building thatched picnic huts along the river. After my little break I was ready to continue exploring Angkor's dry jungle ruins and to revisit with fresh eyes my favorite temple areas.
---
Exploring

Preah Khan ~ Ta Som ~ Ta Prohm ~ Banteay Kdei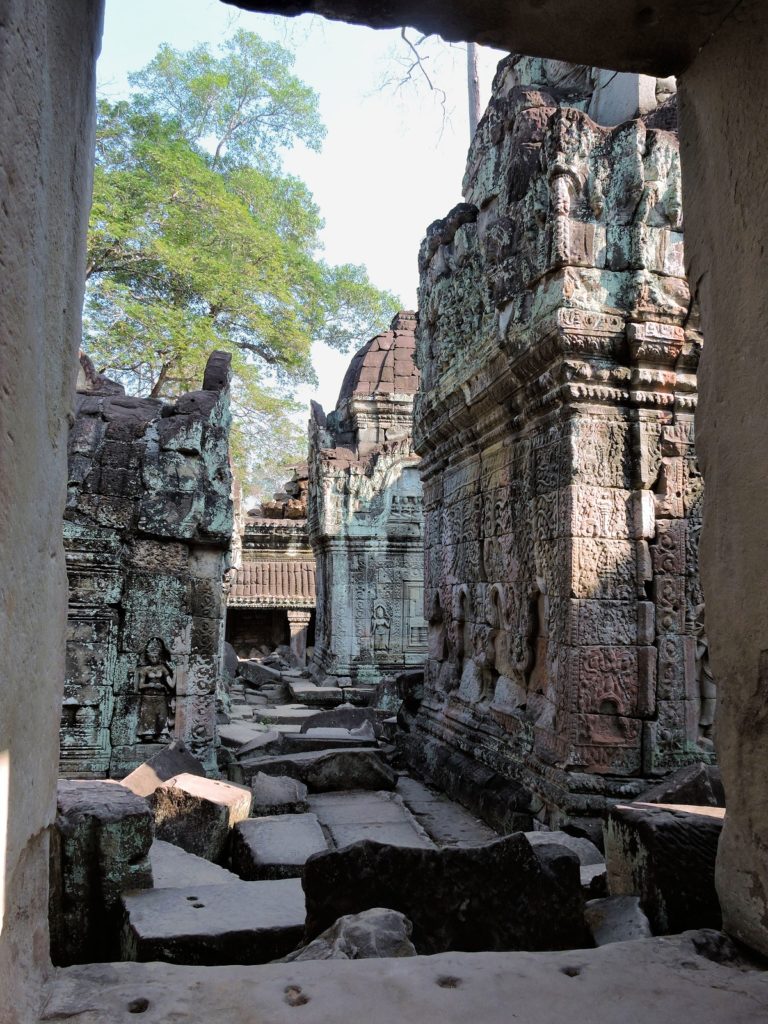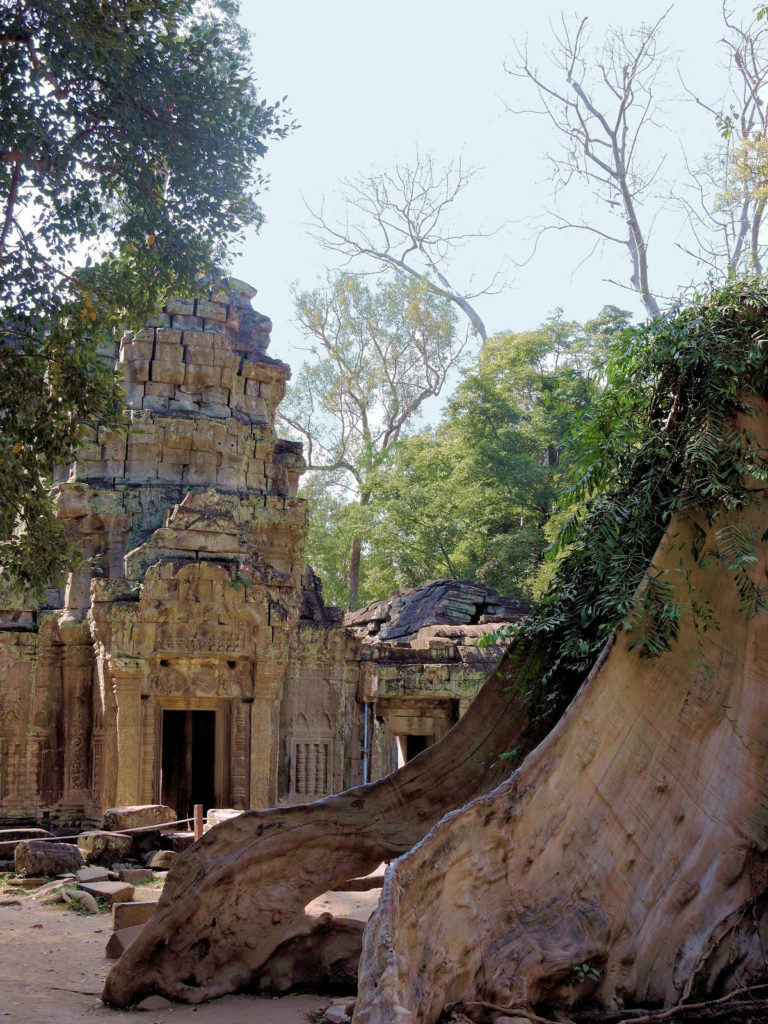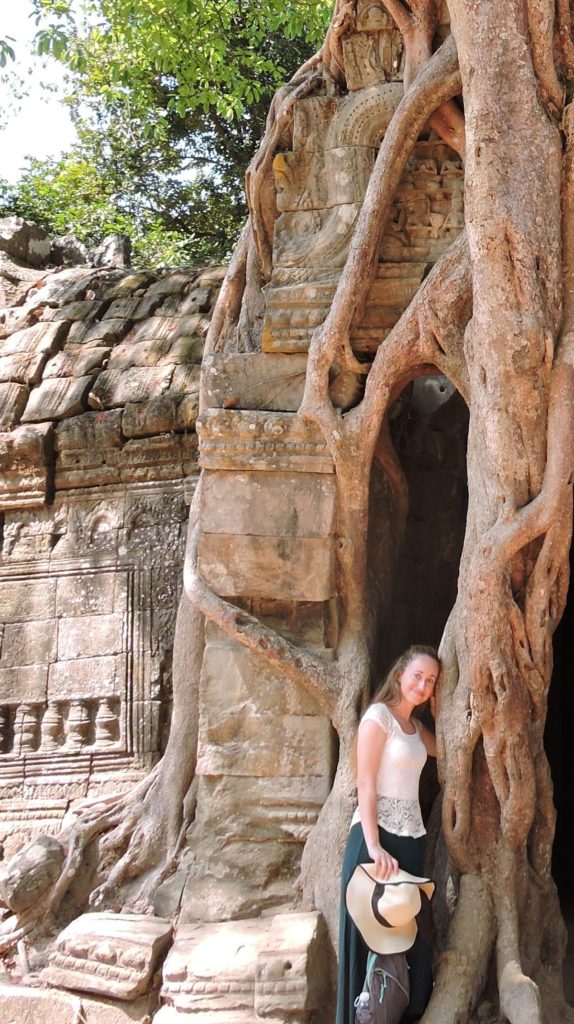 Exploring Bayon Temple in the middle of Angkor Thom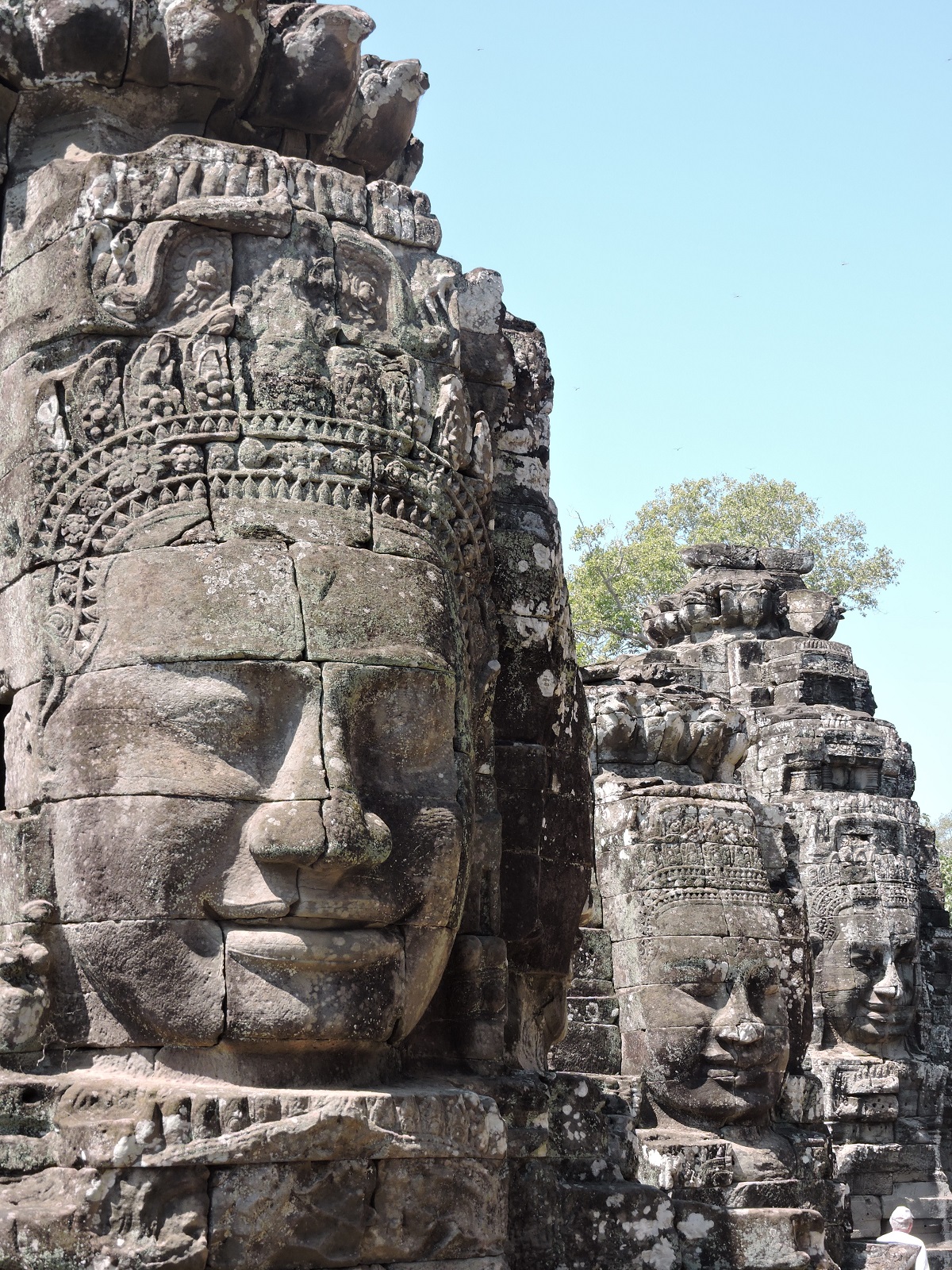 Exploring Here and There
(& the Details In Between)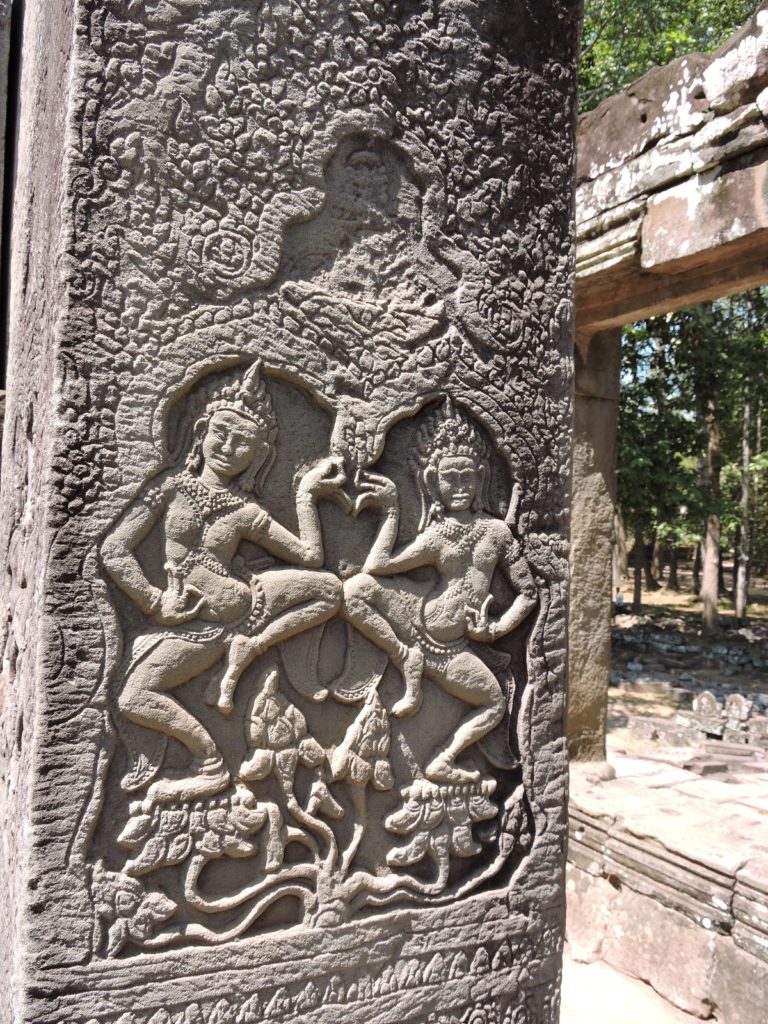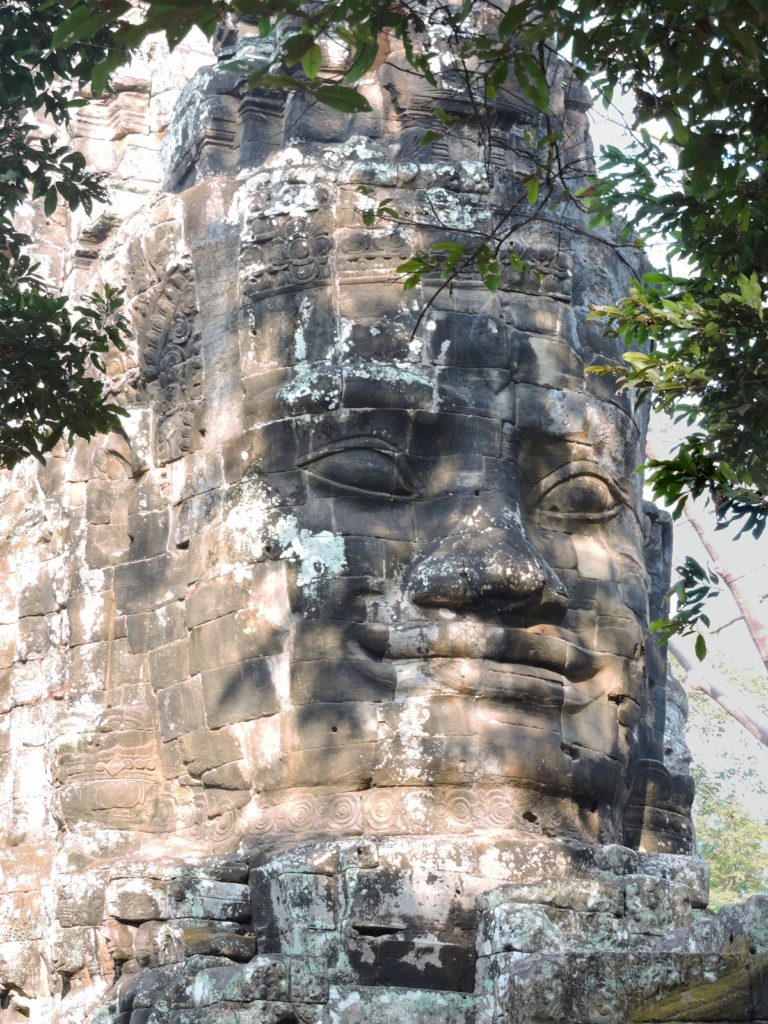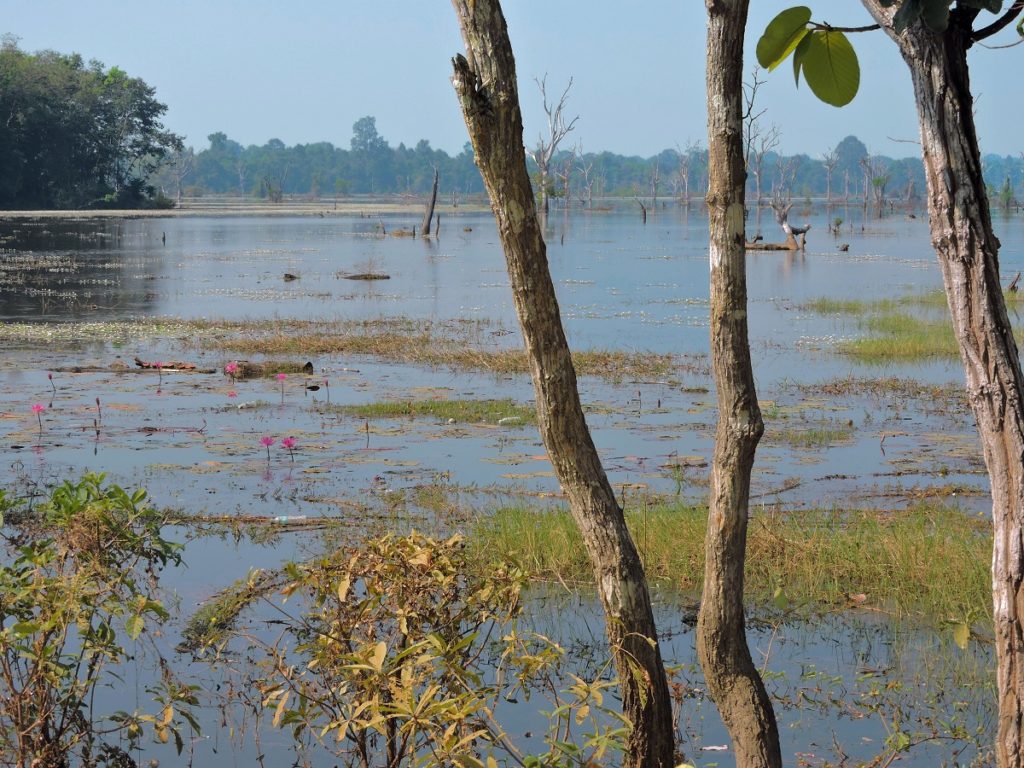 Enjoy Exploring All Along the Way 🙂
Cambodia
Siem Reap